Cairn Curran Reservoir - Malden / Newstead. Victoria
Cairn Curran Reservoir was formed by the damming of the Loddon River and is located near the historical gold mining towns of Malden and Newstead in central Victoria.
There are caravan parks at Welshman's Reef (Newstead) and near the dam wall. The boat ramps are located at the dam wall, Welshman's Reef and Picnic Point and are suitable for boats to 5m for Picnic Point and the wall and 4m for Welshman's Reef (depending on water level).
The lake can be turbid after periods of high rainfall and is susceptible to blooms of blue-green algae during summer but is clear most times of the year.
The lake holds good populations of trout (max. 3.5kg, av. 1kg), redfin (max.2.5kg av. 500g), golden perch (max. 5kg av. 1.2kg), eels and carp.
There are extensive shallows around the lake's margins that offer some fantastic fly-fishing around spring and early summer. Trout to 3kg can be seen in water as shallow as 20cm and can be very hard to tempt. Best flies are stick caddis, Mrs. Simpson, Tom Jones (and damsel nymph imitations), Fuzzy Wuzzy and smelt patterns.
There are also many steep banks and rocky outcrops that give good land-base access to deep water.
Trout can be caught on a variety of baits in this lake including; scrub worms, live minnow, small yabbies and mudeye suspended under a bubble float.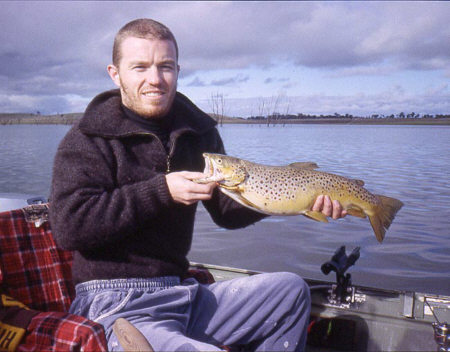 Gavan Moloney holds a solid Cairn Curran brown trout

Trolling is very popular at Cairn Curran and trout can be taken in water from 2 to 20 meters with the use of a downrigger.
Best lures include; Tassie devils with a bit of sparkle in them, pink or mauve Tassie devils, minnow styled lures such as Attacks, Merlins, Rapalas and McGraths and wide action spoons.
Redfin are another very popular target in Cairn Curran and on of the best method is to tie up to one of the dead trees in the lake and lower a bait or jig to the bottom. Give it about 20 minutes and move to the next tree. Continue this until a school of fish are found.
Best baits include; gudgeon or minnow, small yabbies, mudeye and worms. Best jigs include; ice jigs and Baltic bobbers.
Another very popular way of targeting the redfin population is to find a patch of water that is clear of trees and about 5 - 8 meters deep, send down some heavy jigs and drift across.
Thinking anglers are also employing the use of downriggers in the old Loddon River bed and near the wall to target the larger redfin during winter with good success.
Golden perch are mainly a spring and summer target species and can be taken on most baits, lures and some flies. The lakes 'GP' population are best targeted using live yabbies and large scrub worms around submerged timber or rocky points.
They will also take a large range of deep diving lures such as Stumpjumpers, small codgers, wiggle warts and fat raps.
Fly-fishing for golden perch in Cairn Curran is still in its infancy, but due to gain in popularity. Flies to use when targeting GP's need to be bulky and lightly weighted to get down deep. Your fly line should be either intermediate or sinking and be around 7 - 9 weight.

Neil Slater
Cairn Curran Reservoir Facts & Figures

River System
Loddon River
Capacity
148 000 Megalitres
Catchment Area
1593 square kilometers
Submerged Area
1893 hectares

Embankment

Maximum Height
44 meters
Length of Crest
730 meters
Related Links:
Water Level Link Goulburn - Murray Water
Cairn Curran Reservoir Map Goulburn - Murray Water
Fishing Reports HERE>>>
Cairn Curran Reservoir Map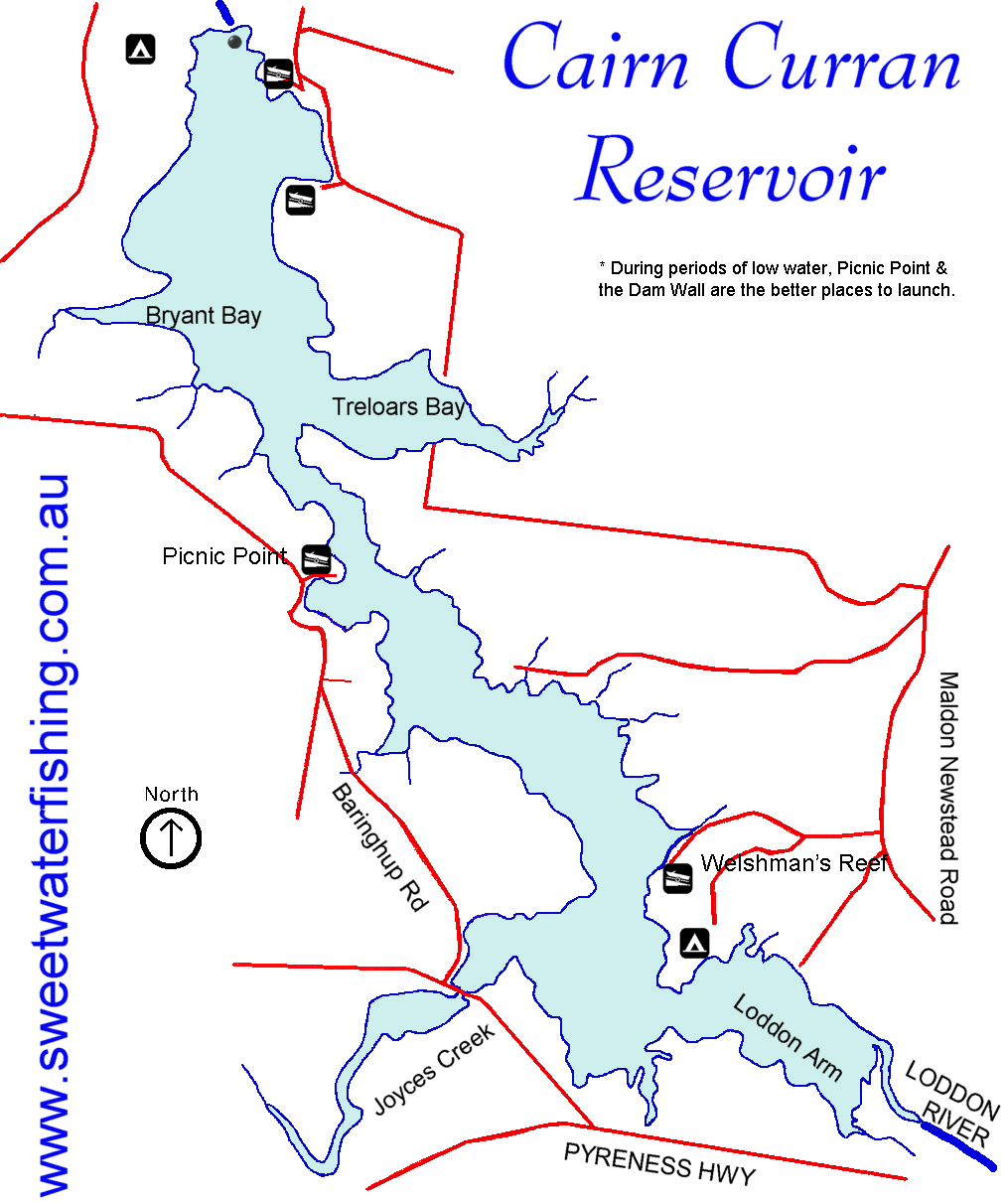 Click on map for printable version
Cairn Curran Reservoir Map