Queensland's Best Kept Secret - Cania Dam
LOCATED just outside of Monto in southern Central Queensland is Cania Dam, one of the best kept secrets for some time. Stocked with your usual golden perch, silver perch and australian bass to 3kg as is the norm at most impoundements in central and southern eastern Qld, Cania Dam's real drawcard is the saratoga. Initially stocked with only 200 individuals, the 'toga have breed to a population where they are quite easily targeted and caught, making Cania a rival to the likes of Borumba Dam on Queenslands Sunshine Coast. Fishing there is quite enjoyable and relaxing due to the postcard surroundings of sheer sandstone escarpments, cliff faces and the abundant wildlife like wallabies that won't get out of the way near the boat ramp.
At the time of writing the boat ramp was being upgraded while the water level was down (currently 15 percent) making it a quality concrete ramp capable of handling two vehicles at a time. Until then a temporary gravel ramp is being used closer to the wall.
There are several techniques that can be used to target the 'toga here and trolling hard bodied lures seems to be the most popular with local anglers. This method can produce bass, goldens and 'toga on the same lure at the same place.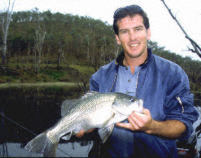 A more productive technique is to cast lures or spinnerbaits in towards snags around the steep banks almost anywhere on the lake, although more seem to be found further up the back of this winding waterway. Cast your offering where you think fish are likely to be and begin your retrieve almost immediately. I have had success using Buzzbaits retrieved just under the surface causing a bow wave to form around it. Don't worry about retrieving too quickly when using spinnerbaits and buzzbaits, as saratoga are a very fast fish and a quick retrieve commonly triggers a strike. One downfall of using spinnerbaits is that fish, especially 'toga, tend to strike the blades instead of the skirt or even short strike them.
On a recent trip there with a few mates, fishing partner Matthew Mott and I had 14 strikes for 14 casts with fish leaping and crossed lines everywhere, all in about four heart stopping minutes. I found a better hook-up ratio was obtained by trimming down the skirt and using double Colorado blades instead of willow leaf blades. Another way to improve hook-up rates is to add a stinger hook onto your spinnerbaits.
Possibly the most difficult but most rewarding way to catch saratoga is flyfishing for them. My favourite fly would have to be a wiggle minnow or a small dahlberg, although several different patterns will catch fish. The use of surface flies early in the morning or late afternoon is productive especially when there is no wind, as a ripple on the water tends to send the fish deeper. I prefer to use an intermediate line combined with a floating fly for most situations at Cania. This allows you to present your offering, get one or two strips, which gets the fish's attention then allow the weight of the line to pull the fly under. This is where most strikes will occur with the advantage of improving the hook-up rate compared to surface strikes.
During the heat of the day try using intermediate or full sinking lines using flies like deceivers, clousers and wooly buggers. Count them down to the desired depth and begin your retrieve. I've found saratoga prefer a long slow strip with a good pause in between although they are capable of high speeds. One local's tip is to stir the 'toga up with spinnerbaits and then throw a fly into the fray. Saratoga can be one of the most aggressive fish found in our freshwater impoundements. I've yet to see any other fish that will throw a lure and then charge straight back at it for another go time and time again. This is one reason for a bag limit of one in Qld. The other compelling reason is that although saratoga will breed in impoundments, they are very slow to do so, often rearing less than 100 in a season per pair. Another thing to remember is that 'toga are shocking table fare, in fact I wouldn't feed one to my cat.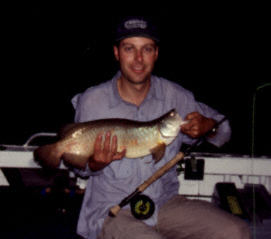 There is no camping at Cania Dam.
The dam is named after the nearby Cania Gorge National Park and access to the dam and park can be reached via a bitumen road that branches off the Burnett Highway 12 km north of Monto (or 77km south of Biloela). It is 14 km from the Burnett Highway to the National Park passing through the small settlement of Moonford and a further 11km to Lake Cania.
The Cania Dam Fish Stocking Association runs the annual Lake Cania Freshwater Fishing Classic which is to be held on March 11-12, when camping will be allowed at the lake for competitors. Proceeds from this event go toward keeping this a top little fishery. There is also a flyfishing comp held before this goes to print in January which was invitation only the first year but has been open to all since.
Garry Fitzgerald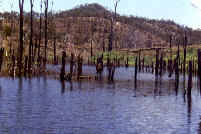 There is no camping at Cania Dam but there is a very well equipped camping ground 3km from the dam. Situated on Three Moon Creek the Cania Gorge Tourist Park caters for camping and caravans and has powered sites, bunkhouses and self contained cabins at reasonable prices. A laundry, tennis court, electric and gas barbecues and swimming pool are provided as well as clean toilets and hot showers. Fuel and some food supplies are available from the kiosk. The nightly bird feedings are a "must see" and the area is swamped with wallabies and rufus bettongs feeding on the green grass. For bookings or inquiries at the tourist park phone the owners on 07 41678188 during business hours.
Cania gorge Tourist Park Cania Gorge Tourist Retreat