The Cumberland River in one of my favourite fishing destinations along the Victorian coastline. This is not a place of monster fish and they aren't so plentiful you can walk across their backs - it's the scenery…
The Cumberland River near Lorne is a very small crystal clear babbling brook surrounded by evergreen rainforest and towering 60 meter cliffs near its entrance to Bass Strait.
The walk up the river to Jebb's Pool and beyond is simply beautiful. It's almost always wet underfoot except for the hottest summers and with towering tree ferns right down to the waters edge, it is a bird watcher and photographers delight.
Best of all - it has TROUT!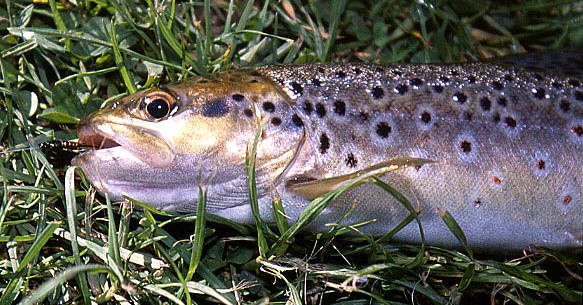 The trout in this river see a heck of a lot of anglers so they can be VERY flighty and hard to tempt at times. But this is what make catching one of them all the more rewarding. The river has not been stocked for many a year so all the fish in here are wild and the larger ones are very cunning.
The Cumberland brown trout do run out to sea at times and you may connect with a very silvery trout every now and then - these sea runners often put on a real show on the end of a line and will leave the water several times in an effort to throw the hook. Most of the trout in the Cumberland are fairly small, but you can be surprised by the odd fish nudging 40cm or 900 grams.
The very best way to catch a Cumberland brown is to use the local scrub worms unweighted and drift them downstream in the current. This is particularly successful after heavy rain when the water has a bit of colour in it or at night when the fish often throw caution to the wind and explore their stretch of river.
Under the rocks in the river is teeming with insect life. The river has a healthy population of galaxids (minnow) as well as mudeye, damsel nymphs and a host of other critters.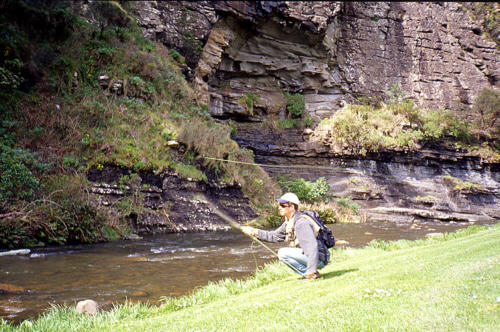 My favourite way to target these trout is by fly and lure (in that order). You can spend your whole day dry fly fishing the river right in the caravan park amongst all the holiday makers when the fish are onto falling insects. Flies that have worked for me in the Cumberland include; dry flies: black spinner, red tag and blue dun - all in size 16 or smaller. Wet flies: Bead head nymph, black nymph, brown nymph, matuka (assorted colours), and Tom Jones - size 16 again apart from the matuka and Tom Jones - size 10.
Best lures for me have generally been bladed spinners such as mepps, Jensen insect and celtas, but small minnow styled lures have done well here too.
A 4 weight fly rod and a small spinning combo capable of using 2kg or less line and casting light weights does the job best on this river as distance is not as important as a quiet presentation.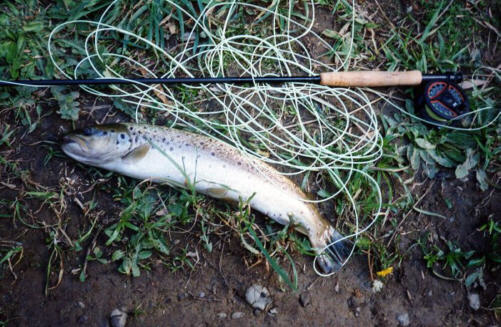 Remember, this is a fairly small river with a fairly fragile population of fish so I can recommend you practice catch and release. A lot of the trout I've caught here wouldn't fill a sandwich anyway, so I always toss them back.
The Cumberland is only 6km west of Lorne on the Great Ocean Road and has a great caravan park with kiosk, cabins, powered and un-powered sites right on the river.
Fish HARD- Die Happy!

Neil Slater