Lake Glenbawn - Scone. NSW
NESTLED in the shadows of the Barrington Tops National Park, Lake Glenbawn is renown as the big bass capital of New South Wales. It is situated around 15 kilometres east of Scone in the upper Hunter region of New South Wales. The lake was named after a local property that was resumed for part of the water storage area.
Construction of the Glenbawn Dam was finished 1958. Its primarily role is to regulate the flow of the Hunter River to meet stock, domestic & irrigation needs. With a major upgrade in 1986, Glenbawn now holds 750 000 Megalitres at full supply capacity.
The wall is 100 metres high, 1.125 Km long, and is of rock and earth fill construction. The lake has a surface area of some 2615 hectares and has a maximum depth of 85 metres. The dam also has additional reserve capacity to hold back a further 120 000 megalitres of water in flood situations.
Fish species present are Bass, Murray Cod, Golden Perch, Silver Perch, Eel Tailed Catfish, Brown Trout & Rainbow Trout.
Accommodation
There are several accommodation services available around Lake Glenbawn. See Accommodation page for details.
Related Topics:
Heavy Metal Bass Fishing - Garry Fitzgerald

Related External Links
Lake Glenbawn Water Level Link
Purchase NSW Fishing Licence Online
First Timers Guide to Glenbawn - David Whitlam
Lake Glenbawn Fishing Map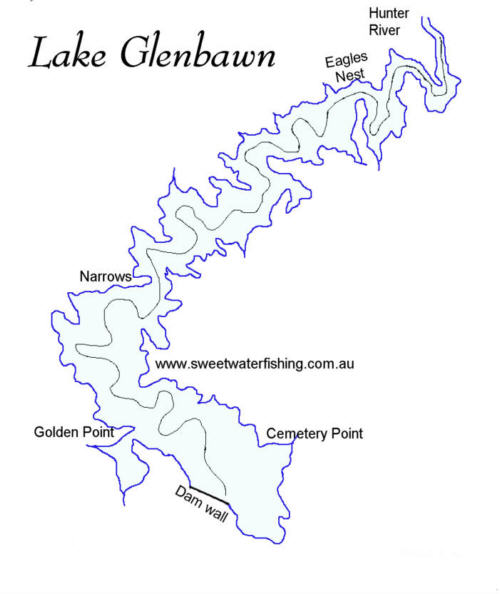 Click on map for a printable version
Glenbawn Dam Map