A Second Look at Lake Somerset
Nestled in the scenic Brisbane Valley a mere 15 kilometers from the sleepy town of Kilcoy, made famous by its claim to the home of the mythical Yowie, lays one of Queenslands most popular fishing locations. Prior to the stocking of fish in Queenslands lakes and rivers, Lake Somerset was always a popular destination for camping and water skiing enthusiasts alike. Due to the development of the fisheries enhancement program and serious numbers of fish fingerlings being liberated into Somerset by the local fish stocking group, it has been one of the main stays of freshwater fishing in not only the greater Brisbane area but Australia as well. It is now more common to see a fishing boat on the water fishing than hearing the roar of boats water skiing.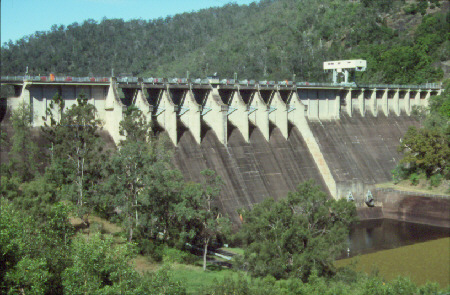 HISTORY: There is evidence to suggest that in the late 1893, Henry Plantagenet Somerset, a property owner in the Stanley River Gorge area heard a rumbling in the river and witnessed a huge wall of water thundering down the Gorge. It is suggested he sent riders to telegram a warning to the residents of Brisbane of the impending disaster that was about to strike only to be ignored. Shortly thereafter large areas of Brisbane's lower laying areas were underwater in one of the largest floods since European settlement that washed away the Albert St Bridge at Indooroopily.
In the mid 1920's a preliminary investigation was made into constructing a dam across the Stanley River. In 1933 the bureau of industry recommended the dam be built on the Stanley River just above its junction with the Brisbane River, between Mt. Brisbane and Little Mt. Brisbane, providing flood mitigation and water storage for Brisbane, Ipswich and the lower valley. Government approval in 1934 saw the Stanley River Works Board formed and construction began in on Somerset Township and the Somerset Dam wall.
Due to World War II, construction was halted indefinitely until 1948 when work on the project was resumed. The last of the main structure was completed in 1953 and a hydroelectric power station was commissioned. Somerset Dam was completed in 1959 after the installation of internal machinery and floodgates and named after Henry Plantagenet Somerset. Some 450 workers were employed during construction while the township population grew to over 1000.
TECHNICAL INFORMATION: When full, Lake Somerset holds some 380 000 megalitres of water plus a further 524 000 megalitres for flood mitigation from a catchment area of 1330 square kilometers. The surface area of water covers 4210 hectares and reaches 55 km upstream. The wall has 203 000 cubic meters of concrete is 53 meters high, 305 meters long and 41 meters thick at its base. Water is released into Lake Wivenhoe as required, which in turn is released into the Brisbane River. The hydroelectric power station is a relatively small plant of 4 kW and was refurbished in 1989.
Further information on Lake Somerset including Lake Map available here.

ACCESS: There are two public access points to Lake Somerset. The Spit is a kilometer from the Somerset Dam wall. It is a daylight till dark area with boatramp, toilets and picnic tables available. This area is popular with the water skiing fraternity. No camping is allowed. The main recreational area is Kirkleagh. The huge area has two separate boat ramp areas with 6 lanes of ramp all up. Numerous toilet and shower blocks with good supplies of hot water are scattered around this campground. Clean drinking water is also provided as well as electric BarBQ's for campers. A well-supplied kiosk is open most weekends and some weekdays. All forms of boating are allowed on Lake Somerset with virtually no restrictions unless low water levels are prevalent.
FISHING: To date there have been over 3 million fish fingerlings released into Lake Somerset. Stocked species are Australian bass, golden perch, silver perch, murray cod, mary river cod, snub nosed gar and Saratoga with silver perch and golden perch being the majority of previous releases.
The annual Kirkleagh Klassic fishing competition held in October is one of the most popular freshwater fishing competitions in Australia drawing crowds of up to 6000 and is the main sources of fund raising to purchase fish here. Although Somerset is renown for producing trophy sized golden perch the real success story over the last five years has been bass. For every fish fingerling released, the bass are up to five times more likely to be recaptured than golden perch and 30 times more likely than silvers because bass are much more aggressive feeders that actively hunt for prey as opposed to waiting in ambush for a feed to come to them.
The snub nosed gar were introduced into Lake Somerset several year ago after local fishing clubs in conjunction with the DPI Fisheries using a special permit, caught around 500 specimens in Lake Wivenhoe and transported them up to Somerset. Since then they have multiplied into hundreds of thousand and are a great source of food for predator fish as well as the endemic population of cormorants (shags). They are also a great fish for kids to target and catch using fairly inexpensive gear. As well as the stocked species there are several other species that breed freely and a couple of these are also of interest to anglers. Spangled perch and eel-tailed catfish are naturally occurring and are a common catch among bait fishing enthusiasts.
Tilapia are an introduced pest fish from Africa. These noxious (meaning harmful to the environment) fish must be destroyed immediately if captured and not returned to the water. It is held they are quite good to eat, but should be filleted at the lake and the frames put into the bins provided. Banded grunter somehow managed to make their way into Lake Somerset from their natural area starting around Bundaberg heading north. These are only small fish growing to a maximum size of less than half a kilo and are an annoyance to all bait anglers, often picking a bait to pieces before a more desirable fish can be tempted. They should also be destroyed when caught. Redclaw crayfish are present here but not in the numbers that exist in other nearby impoundments possibly due to the large amounts of golden perch that are released into Somerset every year.
FUTURE: The owning body of Lake Somerset has been until recently the South East Qld Water Board (SEQWB). A recent incorportisation of this body has at this stage meant no changes to recreational access or activities here, noting that a review is underway. * A spokesman for the new South East Qld Water Corporation (SEQWC) said, "It is all normal sailing just as before and there are no changes planned for the immediate future". With the success of the fish stocking program at Lake Somerset by the local stocking group (SWFSA), DPI Fisheries and SEQWC the future looks bright for freshwater fishing in SE Qld. In the near future, mangrove jack,tarpon, trevally and jungle perch are real possibilities to be stocked into not only Lake Somerset, but also many other of eastern Qld's impoundments. I can hardy wait.
*At the time of writing this information was correct. The newly formed SEQWCorp have entered a policy of closing some public access points and offering much of the remaining access points around Lakes Somerset & Wivenhoe up for lease.