West Barwon Dam is located about 30km inland from Skene's Creek near the Otway township of Forrest. The waterway is surrounded by both eucalypt and pine forest and is very picturesque.
West Barwon Dam is the result of the damming of the west branch of the Barwon River and is very deep at the wall. The wall recreation area has picnic tables, barbeque and toilets as well as lake viewing walks along the wall itself.
Fishing is allowed from the wall, but there is no boating, wading or swimming in the lake itself.
Access to the rest of the lake is difficult due to the steep terrain and thick bush around its margins.
The lake has good population of wild trout that spawn in the upper Barwon, as well as fish stocked by fisheries.
There are both brown (wild and stocked) to 2.7kg (av. 800g) and rainbow trout to 1.5kg (av. 800g - stocked by fisheries) in this waterway.
The lake also has a small but targetable population of redfin to 1.3kg (av. 600g), blackfish (recorded to 4kg, av. 500g) and - of course - plenty of eels.
The water can be crystal clear except after periods of high rainfall where runoff can turn the water to a coffee colour. When it is this discoloured, it is best to switch to bait.
Best bait for West Barwon Dam is live minnow fished either on a float or on the bottom followed closely by live mudeye fished under a bubble float.
Since the lake has a good population of forage fish the local trout respond well to all forms of lure fishing. Try bright colours on a bright day and natural colours on a dull day.
When the water is low, there is room for fly-fishing around the lake's perimeter otherwise the bush extends right to the water and can make the back cast difficult everywhere except the wall.
There can be some exciting smelting that occurs mainly on the points in spring time so take some smelt patterns such as green and black matuka or Mrs. Simpson.
There are also ant and beetle falls early in the season, but these are few and far between.
The lake has risen dramatically over the past few weeks due to the high rainfall. This can really turn the trout on as water quickly floods new ground and the fish hunt about for drowned insects.
Best bait during these conditions is unweighted scrub worm fished on the bottom. Best places to target these fish during these conditions is areas where there is high run off - for example; a small gully where two steep banks intersect.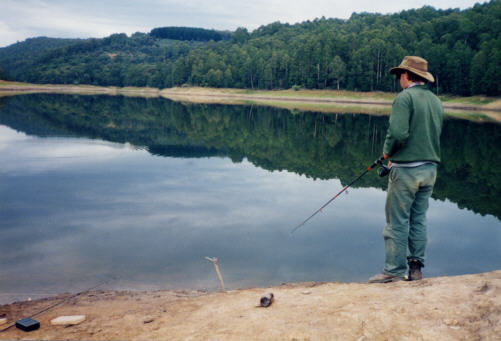 West Barwon Dam Map