WHEN I first started chasing barra around our impoundments sometime about seven years ago, I like so many others focused on water temperature as the major factor to success in getting the big girls to eat a lure.
What I know now is there are other factors that can put barramundi on the chew and water temp alone is not the most power full key when thinking about when to crawl out of the swag and push the boat off the trailer when fishing a barra dam.
This approach came about some years ago after I learned in 2004 that the barra in Lake Awoonga had to eat at least once a day to maintain their growth rates and most probably twice a day. So I got to thinking if they have to eat everyday when does this happen? And more importantly this meant barra where now a 12 month proposition.
In short I have identified three major factors that I've found can turn barra on and as this knowledge has rarely failed me when chasing barra.
| | | |
| --- | --- | --- |
| | | |
| This fish was taken during a morning session with the moon above. | A moon below, warm water temperature during late afternoon saw this Monduran Barra caught. | It can pay off to stay on the water late if there is a moon peak coming up. |
Click on images for larger version


Water Temperature
The first is relative water temperature difference and what I mean by this is a slight lift in water temp compared to the rest of the dam.
One of the best afternoons I have had on Lake Monduran I experienced in water temps of below 20 C, now some years ago the common belief was barra would not bite at that water temperature.
This came about because the basin in Monduran was at a chilly 18 C on that August afternoon but I managed to find a bay that contained water that, in the afternoon sun was at 19 C and that is where the barra chewed that afternoon.
It is a relative difference you are looking for when chasing water temperature around lakes and if you can find a jump of even 0.5 C or more that is a place well worth trying if some other factors line up with that location.

Moon Phase
The second thing I like to watch is the moon phaze and more to the point when moon above and moon below occur on any given day.
The moon most definitely has an effect on impoundment barra, I don't know why but I suspect that the fish can sense a "tide" and although we cannot measure the effect of the moon on our impoundments the fish certainly know.
The easiest way to get hold of this information is to get yourself an Anglers Almanac, most tackle shops would stock them.
In my opinion the moon below is by far the more powerful bite time, it is however generally a shorter bite period but it is usually mayhem when the barra bite on the below moon.


So now if I manage to find relatively warm water and I am out there for moon below or moon above that is 2 of the 3 factors I need, now I am starting to get confident they will fire.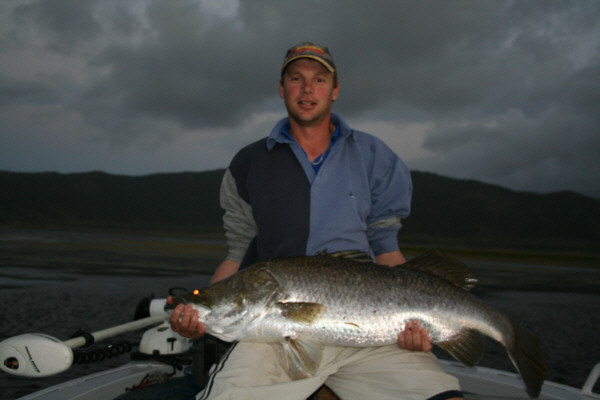 Two out of three aint bad... Cold water temperature but with the moon below on dusk the barra came on like a switch had been flicked.
Light Periods
The third factor is what most fish bite on and that is the low light period at either end of the day, I do find the afternoon bite a little more productive than the morning.
Now of course once it is dark we can still catch barra but the small time window just as the light passes from dark to light is well worth fishing regardless of any other factor.

There is other factors like barometric pressure and is the dam level is rising or falling but I have found these factors to have little or no effect on when and where barra bite in a dam.
Location with-in the dam is not to be disregarded of course, if the water temp is right in an entire bay I will go strait to where I think the fish will be first.
For instance, if I am at Monduran I'll head for 10 feet of water and cast towards to bank targeting points and where weed beds jut out to try and come across some active barra. This means I have caught fish when most others have pulled off the dam because they perceive the barra to be shut down for the day, remember they eat everyday so at some point we are in with a chance.
Now I don't mean to suggest that we all should only fish for barra in these zones when everything should come together, far from it and the opposite is how I fish armed with this information. It allows me to fish all day when conditions are right and if I know a major bite time is coming up a few hours after dark I will stay out there through the inactive period so I can fish right through the period when they become active.
For instance, if I am fishing Lake Awoonga for an afternoon session I'll head for where I know the water to be warmest and then fish the low light period.
If I also have a moon above or below event before say mid night on that night I'll stay out there and see what it produces.
If everything comes to together and I get warm water with moon below late in the afternoon (these conditions have never failed me) I will fish through until about 8 or 9 pm and then head home as the next serious bite time will most probably be just on dawn the next morning. Instead of staying out all night and being too tired to take advantage of the morning bite I'll go in and get some rest and be bck on the water fresh for the next peak period.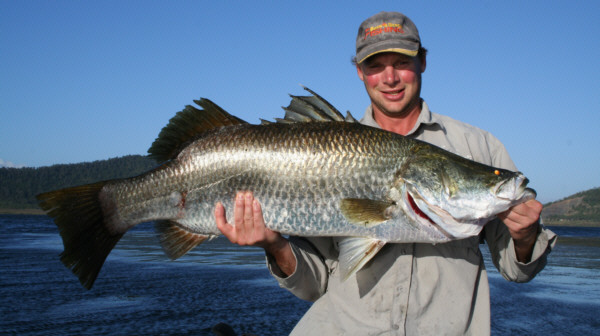 A bad moon time for fish but with warm water in late afternoon, it always pays to have a lure in the water.
There are many other factors that help when chasing barra that needs some consideration as well. Lures used, depth of water, structure and food webs but in general the factors I have outlined put a bit of the puzzle together for me when I'm out there chasing them.
I have found barra biting in cold water but when the moon below event was in full swing and I have found them in warm water no-where near a low light period or moon event.
Each of these factors will influence barra to a degree but when we get two or more of them to line up at the same time I have found this scenario to be the most successful.
It is not rocket surgery, it is just being aware of what is happening and when on the dam you happen to be fishing on.
Any Questions can be posted on the Sweetwater Feedback Forum.

Birdy
Related Topics:
Gearing up for Big Lake Barra - Jason Bird
Lake Awoonga - Information Page
Winter Barra - Shallow or Deep - Garry Fitzgerald
Lake Awoonga Hot Spots - Johhny Mitchell