2006 Cod Opening Classic Report. by Neil Slater
Cod Opening Classic
December 2 - 3 Lake Mulwala
Anglers from every state in Australia flooded into the towns on Yarrawonga and Mulwala on the first weekend of December for the Yamaha Cod Classic.
A total catch and released competition held by Mulwala Football and Netball Club, the competition attracted a staggering 2660 registered anglers and set another world record for number of participants at an inland fishing competition.
The weather was more forgiving this year with warm sunshine most of the weekend and only a few short burst of rain when I was walking to the footy oval Friday night.
The colossal team effort started Thursday evening when 30 volunteers from Mulwala footy club and staff from Bourke Hire erected an absolute behemoth of a tent. Stretching 90 meters and spanning another 15 meters, it almost covered half the footy field and I'm sure you could see it from the moon (if you squinted).
Friday night saw the flood of competitors into the tent. Many anglers were keen to take up the chance to listen to the excellent catch & release and casting clinics held by Dave "the Barefoot Fisherman" Hodge while "Flathead Fred" whipped the kids into a soft drink and sausage fuelled shouting fest on Saturday night.
Lucky door prizes were given out Saturday night including a staggering 1434 minor prizes that saw more than 66% of competitors go home with a reward for showing up. All juniors received a free Bassman spinnerbait upon entry as a lucky door prize and there were a total of six 3.85 Quintrex Explorer boat and trailer packages available to competitors.
Saturday night, the finals of the adult and junior amateur casting shootouts were held. Hundreds of onlookers stayed around to watch this event with the Australian pro casting shootout closing out the night.
There were some absolute cracking fish caught and released including a 121 cm, a 103 cm and a 100 cm cod plus many golden perch exceeding 50 cm.
The funds raised in the event have helped the town build new football club rooms and community centre.
Keep an eye on www.codclassic.com.au (and here at Sweetwater Fishing Ed.) and hope to see you there next year!
| | | |
| --- | --- | --- |
| | | |
| Gav 'La nosh' Moloney got us on the board with a cod of 68cm | The BMT packages that were up for grabs | Dave 'The Barefoot Fisherman' Hodge spins a few yarns |
Click on images for larger version
2006 Cod Classic
Stats, Facts & Figures
Competitors - 2326 Adult, 334 Junior
Total - 2660 (+400 on 2005)
Boat Winners Early Entry boat - Greg Gillet, Lara
Cod C & R boat - Darren Brauman, Bannockburn
Carp Boat - Daniel Webb, Lara
Raffle boat - Anne Hilet, Mulwala
Lucky Door boat - Chris Hal, Mulwala
Combined Lucky Door boat - Adam Veenvliet, Drysdale
Fish Numbers
375 Murray Cod (+22 on 05), 149 Golden Perch (-1), 894 European Carp (+109) - Total 1418 (+130)
Longest Cod
Adult - Hayden Brown 121cms, Junior - Harrison Manning 62cm
Longest golden perch
Adult - Kevin Doyle 56cm Junior - Alyssa Kershaw - 51cm
Longest Carp (Open Section) Warren Black 79cms
Jnr Champion Angler (most combined length) - Locky Long 1.09mtrs of Murray Cod (3 fish)
Lady Champion Angler - Julie Perkins 69cms
Fish Stats (All Murray Cod - as indicated on complete catch cards)
375 Caught & Released
Adults 364, junior 11
50-59cms 313, 60-69cms 48, 70-79cms 9, 80-89cms 2, 90-99cms 0 and the big fish: 1 @ 1.00m, 1 @ 1.03m & 1 @ 1.21m.
Most Productive Methods - Bait 245 (identical) Lures 91 (+9) No Response 39
Breakdown - Bait - Bardi grub's 160, Yabby's 35, Worms 19, Cheese 14, Shrimp 11, Worm/ Shrimp Combo 6.
Lures - Oar Gee 19, Stumpjumper 13, AC's 5, Custom Craft 4, Codger 2, Swagman 2, Predatek 1, Others 14 (non sponsors), Spinnerbaits 31

Fish Stats (All Golden Perch - as indicated on complete catch cards)
149 Caught & Released Adults 137, Junior 12
Most Productive Methods - Bait 76, Lures 60, No Response 13

Breakdown - Bait - Worms 35, Yabby's 22, Shrimp 8, Bardi's 7, Worm / Shrimp Combo 4
Lures - Oar Gee 8, Stumpjumper 4, Codger 4, AC 4, Custom Craft 2, Jumbuck 1, Halco 1, Legend 1, Spinnerbaits 23, Others 11

European Carp - An incredible 894 Carp were removed from the lake and taken to "Charlie Carp" for processing. Ron Kaponica form Charlie Carp report that the total weight of all the Carp was 1.52 tones.
Casting Champions
Juniors: 1st Tom Heatherington, 2nd Luke Simpson, 3rd Jack Simpson.
Adults: 1st Joe Linehan, 2nd Jamie Roberts, 3rd Jeremy Beasley
Pro's: 1st Jarrod Healey, 2nd Dale Ford, 3rd Tony Bennett.
Read the 2005 Cod Openning Classic Report

| | | |
| --- | --- | --- |
| | | |
| All fish, except carp, were measured and released | a slab went to every boat owner - the cream on the cake | Hayden Brown took out the longest cod prize with a whopper of 121cms |
Click on images for larger version
Neil Slater
Related Topics
Lake Mulwala Hotspots - Article by Ian Stead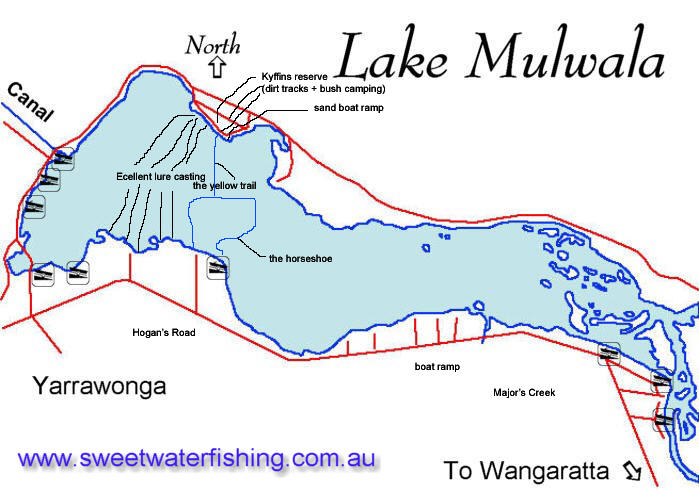 Click on map for printable version