Ewen Maddock is one of many smaller Dams on Queensland's Sunshine Coast.
It is situated approximately 5 km south east of Mooloolah, Ewen Maddock Dam has a surface area of 370 hectares and holds 16 700 ML of water at an average depth of 4.5 meters.
It was built across Addlington Creek, a trubutary of the Mooloolah River, in 1973 to supply the fast growing region with town water.

Fishing
Ewen Maddock Dam is stocked with Australian Bass, Yellowbelly, Mary River Cod and Saratoga.
There are naturally breeding populations of Tandans (Eel Tailed Catfish), Spangled Perch and Eels.
There have been reports of Barramundi being captured in Ewen Maddock Dam. These would almost certainly have been illegally introduced into the lake.
Camping
There is no public camping area at Ewen Maddock Dam.
There is a group camping site on the eastern side of the lake.
Camping, caravan parks & hotel/motel sytle accommodation is available locally, see Accommodation index for details.

Boating
Fishing is restricted to bank angling or paddle/wind powered canoes, kayaks or boats.
There is a gravel launching area between the water intake tower and the spillway.
Other access points are provided at the western end of the saddle dam and a couple of kilometers north west along Mooloola Connection Rd.
No propellor driven vessels should be used here due to the noxious weed, Cabomba. Propellors cause the weed to break up and spread rapidly.
For any further enquiries contact the Caloundra City Council on (07) 5491 0200.
Facilities
Children play ground, toilets, picnic tables, walking trails and gravel launching areas are provided.
Gates are open from 6:00am to 8:00pm with a $50 fee to be let out if you stayed too long.

Local stocking group:
Ewen Maddock Dam Fishing & Stocking Association
PO Box 115
Caloundra, Q. 4551
Related Links
Surface Luring for Australia Bass
Ewen Maddock Dam Canoe Trail - Caloundra City Council (pdf format)
Mooloolah River Canoe Trail - Caloundra City Council (pdf format)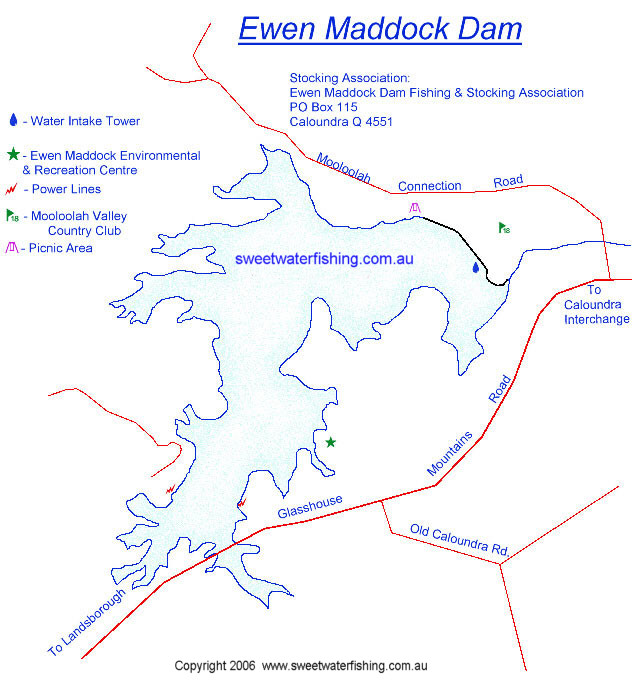 Click for larger printable view