The Manton River was impounded in 1942 to build the Dam which was Darwin's first water supply reservoir. In 1951 its catchment was declared as Woolnough Water Catchment and Flora and Fauna reserve. In 1972 a dam was constructed on the Darwin River, to the north-west,which then became the main water supply for Darwin's expanding population.
There is a naturally occurring population of Saratoga present as well as some barramundi that were stocked in the early 1990's. Being in the heartland of some of Australia's best barra country, Manton Dam rarely gets a mention in the media. Being around 75km south east of Darwin the dam offers one of the few "safe" water skiing locations in the region & attracts plenty of attention from the noise boats, however there is a designated "no ski" area for anglers to escape to if annoyed.
With fish breeding techniques pretty much run-of-the-mill these days, Manton Dam could prove to be a major drawcard to rival the "Big Barra" Lakes of Qld if stocked to its potential.
Amenities include boat ramp, toilets, picnic tables & Bar B Qs.
No camping is allowed at the Dam.
The Dam is open from 9am to 5pm on weekdays and from 8am to 7pm on weekends and public holidays. The area is closed each night.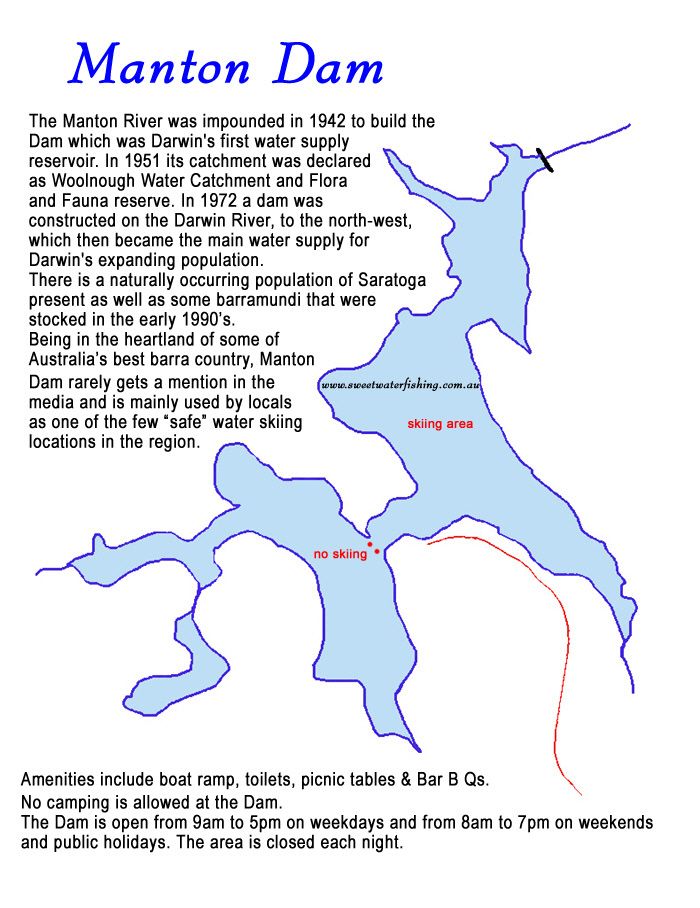 Click on map for printable version
Manton Dam Map