LAKE Modewarre is situated about 1/2 way between the outskirts of Geelong and Winchelsea in grazing land. The lake is very open and subject to winds from all directions, but has good access to all banks but the southern half of the lake.
There is a concrete boat ramp, car park, toilets, jetty and break wall on the north bank accessible via Lake Modewarre Rd. from the Princess Highway.
There is another shallow dirt ramp accessible via Lewis's Lane and other access points via Craig's Lane on the west bank and Consodine's Rd. and Batson's Rd via Moriac and Modewarre on the east bank.
During periods of optimum water levels, the concrete ramp can cater for boats to 5.5 meters and the dirt ramp boats to 4 meters (but bring your waders to assist launching).


Launching at Lewis' Lane, Lake Modewarre
(Click on image for larger version)


There is a small inlet and creek on the east bank where fish can congregate after heavy rain and when smelting. There are rocky banks on both the north and south shores where minnow can congregate during their spawning periods and some exciting fishing can be had trying to target these fast moving trout.
The lake has brown trout to 4kg (av. 1kg), rainbow trout to 2kg (av. 600g), European carp to 20kg (av. 5kg), redfin to 1.3kg (av. 500g) and eels to 2kg. The lake is subject to algal blooms during periods of hot weather and no wind and can result in fish kills. The fish in the lake often carry the parasitic red worm found burrowed into their flesh. This worm is not harmful too humans and can be safely removed from the trout prior to consumption.
The lake can have a thick perimeter of weed occurring at about 1-1.8m of depth. This can be from 1 to 20 meters from the bank and continue for up to 20 meters towards the middle of the lake. This weed can help reduce wave hight during periods of high wind.
Live minnow can be trapped in the lake using collapsible minnow trap or a drag net. The weed beds are crawling with damsel nymphs and other aquatic insects, but few mudeye.
The lake is not deep and has no structure other than the weed beds or deeper sections and fish can be caught equally well all over the lake. Maximum depth at high water is 5 meters in the middle, but this varies season to season depending on rainfall. Generally, the lake's maximum depth rarely exceeds 4 meters.

Fly fishing from the bank is popular on Lake Modewarre.
(Click on image for a larger version)
Best lures include: hot pink cobra-styled lures such as Tassie Devils and Lofty's Cobras and minnow-styled lures such as Merlins, Attack Minnows and Rapalas in 3, 5 and 7cm. Best colours (other than the hot pink Tassie) are bright greens and yellows as well as natural darker coloured minnow lures.

This kilo plus brown took a lure cast at it after it was spotted chasing baitfish.
(Click on image for a larger version)

Best flies are generally damsel and smelt imitations. There are large hatches of midges almost each afternoon during spring, but the trout rarely respond to them.
Flies to have in the box include: Tom Jones, BMS, Black Matuka, green nymph, Slone's Fur fly and Craig's Night time for after dark work.
Best baits are live minnow and mudeye. Worms tend to attract carp and eels, but will take redfin. Baits are best suspended on a float for the same reason.
The lake floor is safe for wading, but gets uneven and soft as you get to about 4ft of depth.
Bank fishing can rival boat fishing during spring when the trout move into the shallows to hunt the spawning minnow.
Trolling and bait fishing with a mudeye suspended under a bubble float are the most popular method of targeting Modewarre's trout, with fly fishing coming a close 3rd.

A 9kg fly caught carp caught from Lake Modewarre.
(Click on image for a larger version)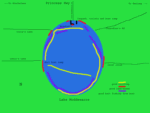 Lake Modewarre Fishing Map
Click on image for larger version
Lake Modewarre Map