Lake Murdeduke - Winchelsea. Victoria
LAKE Murdeduke is situated 11km north west of Winchelsea on the Princess Highway.
There are only 2 access points to the lake. One is at the south end of the lake where the road passes by and is only fishable during periods of high water levels.
The other is via Block Lane to the Lake Murdeduke reserve where there is a concrete ramp that is only usable during periods of moderate water level.
Access to the boat ramp is via private property so all gates should be let as they are found.
During high water levels, boats to 5m can be launched in Lake Murdeduke.
The lake has a high salt level so all fishing gear, boats and cars should be hosed and flushed after a visit to Murdeduke.
In the past, Murdeduke has seen rainbow trout exceeding 11kg taken, but these days a good fish would be around 2 - 4kg.
The lake has rainbow trout to 4.5kg (av.1.5kg), Chinook salmon to 4.5kg (av. 1.3kg) and eels to 2kg.
The lake is crawling with tiny snails, which the rainbows gorge themselves on and can be hard to tempt when in this mode.
Live minnow can be trapped in the lake using a collapsible trap or drag net.

Greg Ainsworth is pretty chuffed with this 2.3kg rainbow he trolled up.
(Click on image to see a larger version)
There is a perimeter of thin ribbon weed that exists from the 1 meter to the 2-meter depth marks.
Bank fishing can be good during a light easterly when the weed isn't bad.
Best lures include dark cobra-styled lures such as Tassie Devils and Lofty's Cobras. Minnow styled lures also account for a lot of fish due to the good population of galaxias in the lake.
Good lures to have include; Merlins, min mins, Attack minnows, McGrath Divers (when the water depth allows) and Rapala in 3, 5 and 7cm.
Trout rarely respond to dry fly fishing methods. Drifting or casting at the weed beds with wet (smelt/minnow) flies in a boat seems to be the best method of attack. Sometimes when the black crickets are in plague proportions, the trout will respond to these so a black muddler is the go.

Murdeduke salmon grow quick and fight hard – just ask Gav Moloney.
(Click on image to see a larger version)
Best baits include live minnow, mudeye, corn kernels, scrub worms (although these can attract eels) and various salt water baits such as bluebait, whitebait, glassies and pilchards.
Best bait fishing methods involve a bubble float to keep the bait out of the weed and eels on the bottom, but many anglers fish unweighted salted baits.
There is a creek running into the lake at the northern end that is only accessible via boat (or long walk). During periods of good water level, the small bay adjacent to the creek can attract large trout trying to spawn and fly fishing methods can excel when all others fail.
The lake is susceptible to bad algal blooms during periods of hot weather, low water levels and calm conditions resulting in fish kills.
The lake is very open and can produce waves in excess of 1 meter when strong wind springs up - particularly from the northwest. There have been several deaths at this lake, so it pays to watch the weather.


Murdeduke ramp at low water.
(Click on image to see a larger version)

Neil Slater
Lake Murdeduke Map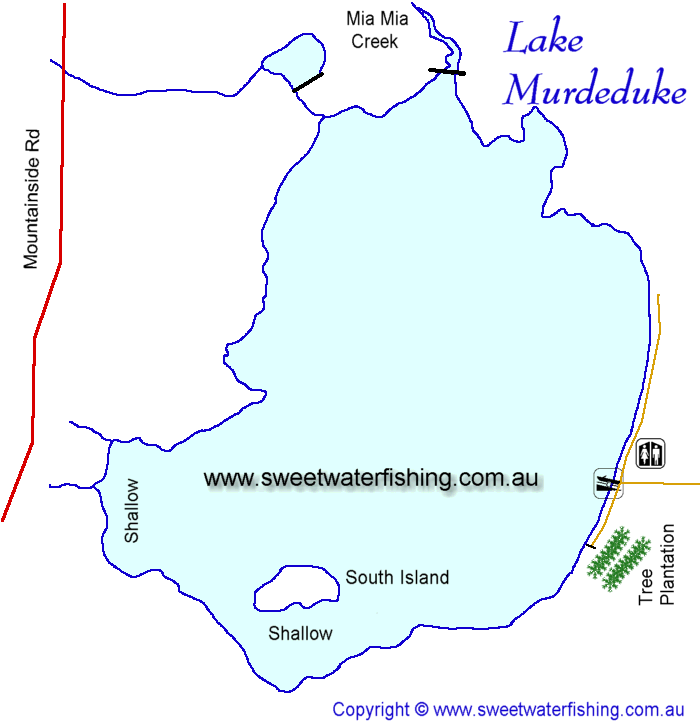 Click HERE printable map version
Lake Murdeduke Map
Copyright© 2004 Neil Slater. Sweetwater Fishing Australia