Lake Wartook is nestled at the top of the Grampians mountain range in Victoria's western district ½ hour's drive from Hall's Gap.
The lake is water supply, but boats and wading are permitted with a strict speed limit of 8 knots enforced.
There is a picnic area at the wall and a boat ramp 100m to the left suitable to vessels to 5m when at capacity.
There is also a camp ground about 5km drive from the lake with pit toilets and a camping fee of about $8 per person per night for a site.
The lake has both redfin (av. 400g, max. 1.8kg) and trout (av.700g, max 2.7kg) and their colours are truly spectacular.
The lake has a few stands of drowned timber and there are some stumps cut off that can be a real hazard when the water is low.


Click on image for larger version

The water is clear for most of the year with a slight tannin stain to it due to the drowned timber. There is a small island known as Bear Island just east of the middle of the lake. The eastern side of the lake is shallower with extensive weed beds and a good spot to soak a mudeye or cast a fly from a boat.
The middle of the lake near the wall is very deep and a good spot to drift for the local reddies.
Yabby tail is one of the gun baits in the lake and yabbies can be trapped using a witches hat styled drop net.
The wall is a popular bank fishing spot due to its close proximity to the picnic facilities and car park.
Many fishermen use unweighted scrub worms off the wall and fish with an open bail arm. Live minnow and mudeye suspended under a bubble float are also popular baits.
Trolling lures is also very popular and productive due to the clarity of the water. Brighter lures seem to do a little better and deep divers will account for reddies and trout during summer when the surface gets a little too warm.
When the lake is at capacity, the east and west bank floods into low lying bushy areas and the fly-fishing can be fantastic.
Trout to 2kg scoot about in water less than 20cm and feed on the drowned insect and those falling out of the low scrub.
Beetle patterns in both wet and dry flies are the go here as are small nymphs.
The McKenzie River flowing out of the dam is a real surprise packet with good-sized trout. This is a good river for bait drifting and lure casting, but can be a little overgrown for fly fishing in some places.
Neil Slater
Lake Wartook Map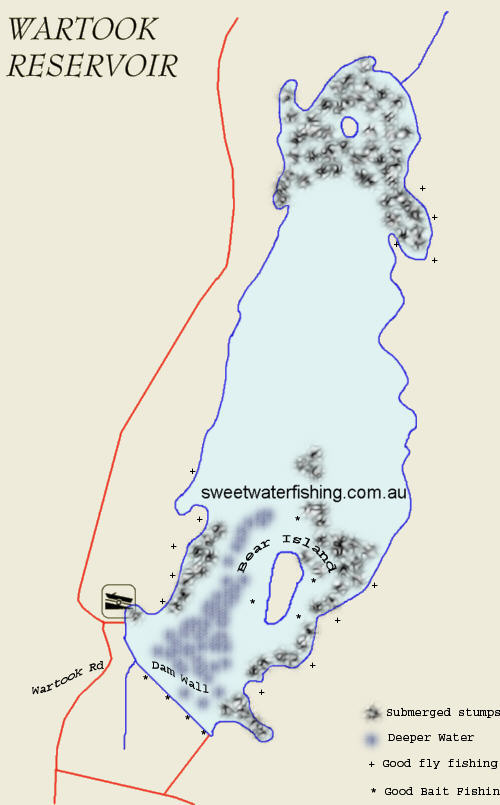 Click on map for printable version
Lake Wartook Map