Lake Advancetown (Hinze Dam) is situated 10km west of Nerang on Queensland's Gold Coast.
It is one of the Average sized impoundments in South East Queensland with a surface area of 970 Ha.
Fishing
Hinze Dam has been stocked with Golden Perch, Silver Perch, Saratoga, Mary River Cod and Australian Bass. Banded Grunter have been illegally introduced & are a constant annoyance to bait anglers. Banded Grunter should be destroyed if caught here.
As there are no Boney Bream present, forage species, many fish are prone to surface feeding which makes this a fantastic fly fishing destination.
A permit to fish Hinze is required and can be obtained from the local rangers.
Boating
Boaters are only allowed to use electric outboard motors on this lake.
Camping
There is no camping permitted at Lake Advancetown. There are various accommodation options available locally. See Accommodation page for details.
Related Links:
Hinze Dam Water Level - BOM Water Level Guage
Hinze Dam (Lake Advancetown) Water Level Graph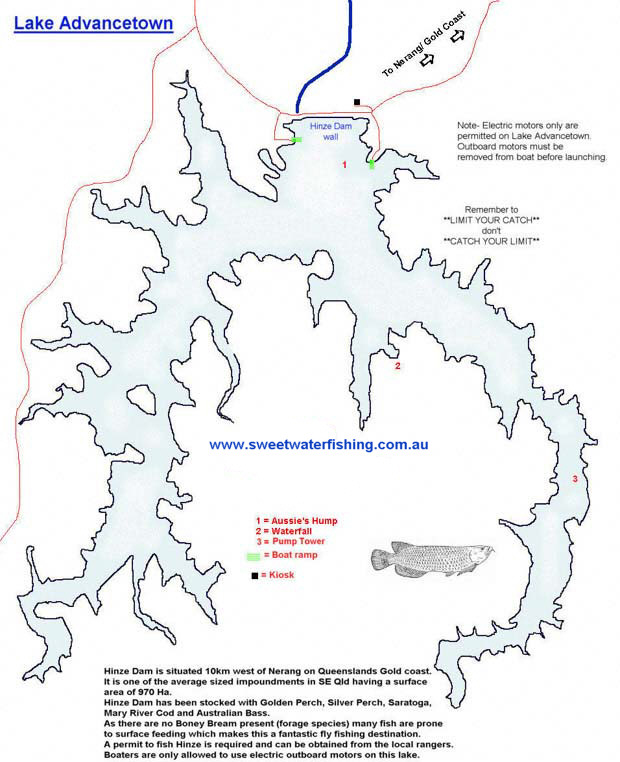 Click for larger printable view