Lake Eildon is located on the Goulburn River in its upper catchment. Tributaries include the Big River, Delatite River and the Jamieson River.
The original storage, known as Sugarloaf Reservoir, was constructed in 1929. It was modified 1935 to increase the storage capacity to 377,000 ML. In 1955 it was again enlarged to it current capacity which is around six times the size of Sydney Harbour.
When full, Lake Eildon holds 3 390 000 Mega-Litres, with a surface area of 13 840 hectares. It has a shoreline of 483 km and has a maximum depth of 76 meters.
Fishing
Lake Eildon holds an array of fish species. Brown Trout, Rainbow Trout, Murray Cod, Golden Perch, Redfin, Carp, Roach and Tench.
Boating
There are no boating restrictions on Lake Eildon.
Boat ramps are located around the lake at Bonnie Doon, Coller Bay, Eildon, Jerusalem Inlet, Howqua, Goughs Bay and Ford Inlet.
Camping
Camping is permitted at various locations around Lake Eildon.
Other accomodation including hotel, motel, caravan parks, houseboats and resorts are located around Lake Eildon. See the Accommodation page for details.
Related Topics:
Water Level Link
Purchase Victoria Fishing Licence Online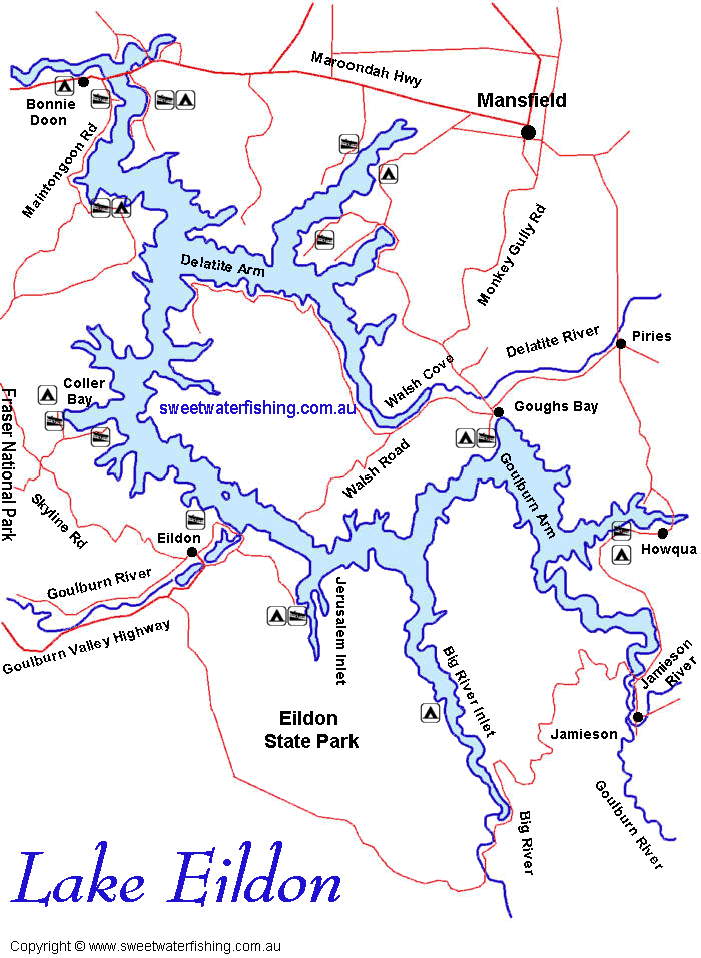 Click HERE for printable map