Lake Bellfield - Halls Gap / Bellfield. Victoria
LAKE Bellfield is situated about 5km south of the township of Halls Gap at the foot of the Grampians mountain ranges in Victoria's western district.
The lake is the local water supply so no powerboats are permitted, but electric motors are.
There is a caravan park and picnic area at the wall and a few other picnic spots along the west bank. See Accommodation page for details.
There is good access along the west bank for fishing and a dirt ramp situated near the picnic area.
The lake is not stocked any more due to the presence of a rare native minnow, but there are still good populations of naturally recruited brown trout (av. 500g, max 1.8kg), redfin (av. 600g, max 1.8kg) and a good population of blackfish.
The banks slope down quite quickly so if you're wading, you should take care. The water is clear for most of the year so lure fishing can be quite productive. There is no fishing from the wall and a certain distance down the lake from the wall.
Best bait for reddies is live local yabbies. Baiting up with scrub worms will give you a good chance at all species present and, of course, mudeye under a bubble float is a trout favourite.
Dark lures are a good trout tempter here as are darker minnow styled lures for the reddies. Smelt pattern flies will take both reddies and trout in this water. There are some beetle falls during summer and the odd mayfly hatch during spring and summer so flies like spinners, mayflies, red tag, deer hair beetles in dries and wets as well as a few smelt and nymph patterns as a standby.

Neil Slater
Add your Fishing Report HERE>>>
Lake Bellfield Map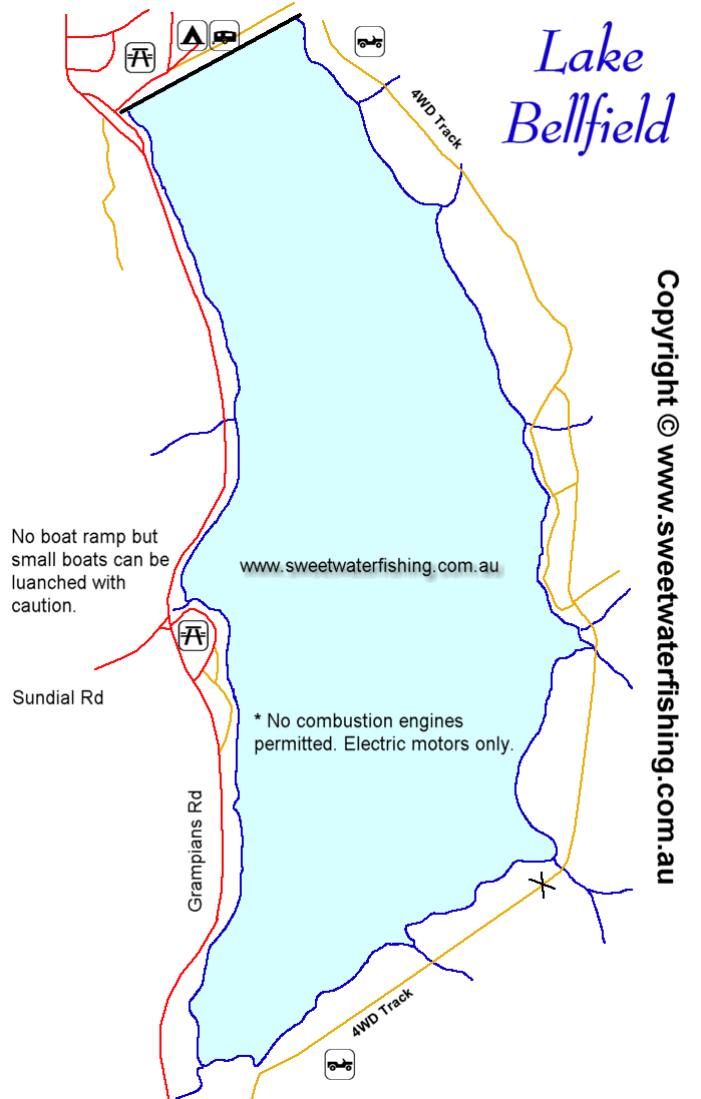 Click on map for printable version
Lake Bellfield Map