THE crater of Lake Bullen Merri was formed millions of years ago with a violent explosion. Today it is home to some fantastic salmonoid fishing with maybe a future bass fishery in the making?
Lake Bullen Merri has a caravan park overlooking the massive crater at the northern end, 2 great boat ramps and bbq and picnic facilities. Bank fishing is accessible almost the entire circumference of the lake and water in excess of 20 meters can easily be cast to.
| | |
| --- | --- |
| | |
| Northern Boat Ramp | Southern boat ramp has toilets |
Click on images for larger version

The lake is stocked with Atlantic salmon, Australian bass (to 1.5kg) and brown and rainbow trout. In its heyday, salmon and trout of 6 and 8kg were caught here and the taxidermists were busy!
There were then some serious fish kills due to excess nutrients in the water. This saw the death of a magnificent lake and fish to 9kg were found washed up on some shores.
But today it has made an astounding comeback providing anglers with fish in excess of 4kg as I write this.
With some sections of the lake exceeding 40 meters deep, a downrigger is a handy addition to a fishermen's arsenal.
Best baits are mudeye, live gudgeon, minnow, Berkley Powerbait and large scrub worms.
Best lures are Lofty's Cobras, Tassie Devils and minnow-styled diving lures such as merlins, Rapala and Tilsans.
Best flies include BMS (Bullen Merri Special), stick caddis and smelt imitations.
Fishing after dark with live gudgeon under a float is very popular here for the lake's monster brown trout.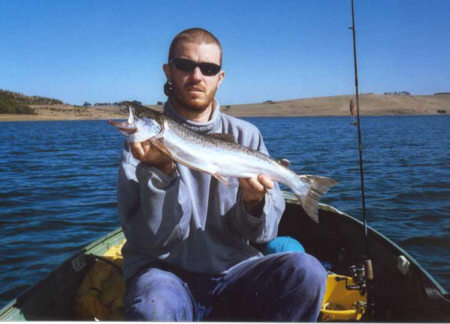 Gav Moloney with a good sized Atlantic salmon taken on the troll.

Neil Slater