LAKE Colac is situated in the town of Colac about 2 hours drive west of Melbourne on the Princess Highway.
The lake is shallow and discoloured most of the year but is a drawcard for anglers seeking redfin.
Redfin have been recorded over 2kg in this lake but an 800g fish is considered a good size.
There are two main boat ramps in the lake. One ramp is on the southern shore near the yacht club and the other on the northeast bank at Meredith Park.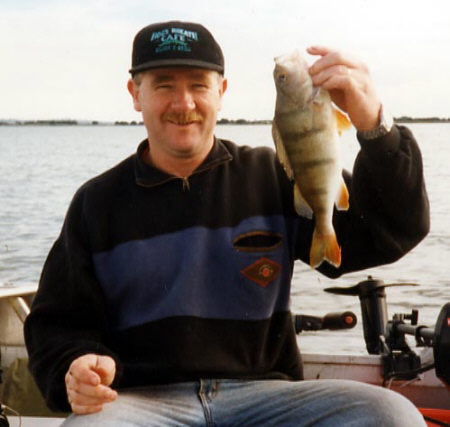 Bill Matthews with an average Lake Colac redfin
(Click on image to see larger version)
Jubilee Park has toilets, picnic tables and shallow sloping grassy banks that form a comfortable sandy beach at the waters edge, which makes it safe for swimming and fishing alike. About 400m further north there are groups of small rocky outcrops that are popular with land-based anglers when the fish are on the bite.
Best way to target the reddies in Lake Colac is to use the local smelt. These can be netted with the use of a hauling net, but this baitfish is difficult if not impossible to catch any other way. Using worms seems to attract the lakes population of carp and eels.
Trolling is successful, but due to a maximum depth of only about 3 meters, you are best to use shallow diving minnow-styled lures and revolving blade spinners fitter with a keel to prevent line twist
Neil Slater