CRESSBROOK Dam was constructed in 1983 for water supply to Toowoomba City Council.
It has a surface are of 515 hectares, holds 81 800 mega-litres when full at an average depth of 15.8 meters.
Fishing
There are natural populations of Spangled Perch, Eel Tailed Catfish and Eels.
Stocked fish include Australian Bass, Golden Perch, Silver Perch, Mary River Cod, Snub Nosed Gar and Saratoga.
A Stocked Impoundment Permit (SIP) is required to fish at Cressbrook Dam.
Access
There are gates open: September to April 6am to 8pm, May to August 7am to 6pm. All water activities are not permitted outside these hours (even for campers)
Entry is via a boom gate. An entry fee of $2.50 per vehicle applies at Lake Cressbrook. The ticket machine accepts coins only (10c, 20c, 50c, $1, $2) and does not provide change.
Cressbrook Dam Picture Gallery
Boating
Lake Cressbrook is open to all forms of boating, however there is an 8 knot speed limit.
Camping
Camping is allowed at Lake Cressbrook and is on a first come first serve basis with no facility for campsite bookings with a limit of 14 consecutive nights allowed.
Camping fees are payable via a self-registration system and charges (at time of writting) are:
Camping fees are $7.90 per night per person (under 5 free) or $31.60 for a family of two adults and any number of children (under 18).
Fees are $7.10 per night per person for groups of 20 or more.
No firewood is available on site for purchase or collection, so remember to take your own.
Please note that campers also need to pay the day use entry fee for each vehicle and may access the campground at all times of the day.
The surrounds of Lake Cressbrook are a flora and fauna reserve, no domestic pets are permitted on site.
For further enquiries regarding access / camping / fees contact Toowoomba Regional Council on 131 872
Related Links:
Purchase Stocked Impoundment Permit on-line - QDPI&F


Video of Cressbrook Dam from mountains
Lake Cressbrook Fishing Map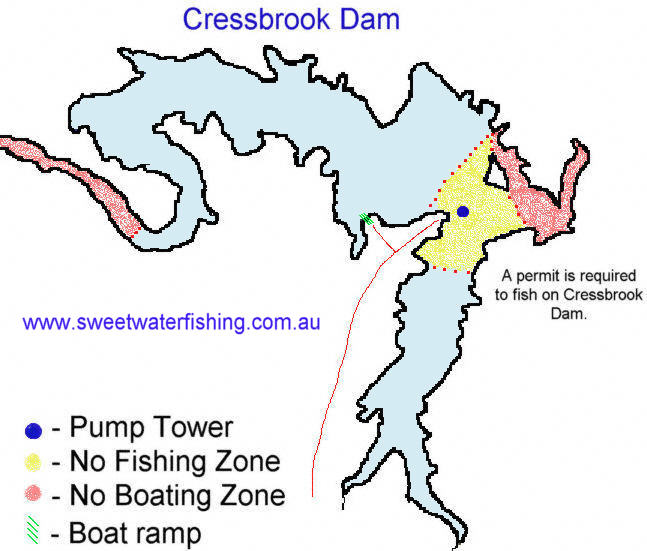 Click on map for larger printable version
Lake Cressbrook Water Level Guage / Graph
Cressbrook Dam Map