Constructed in 1987 for irrigation purposes, Lake Dyer is an "off stream" storage where eccess water is diverted from nearby Laidley Creek when in flood. The water is stored for irrigation purposes and may see this location emptied in times of drought.
When full, it holds 6950 ML at an average depth of 7m and has a surface area of 100 hectares.
Fishing
Fish stocked include Bass, Yellow Belly, Silver Perch and very few Mary River Cod.
There are also Tandans & Spangled Perch which continue to breed freely.
Camping
Camping is allowed on the foreshore at the council run caravan park. Toilets, hot showers, BBQs, drinking water and tables/shelters are provided.
Boating
There are no boating restrictions on Lake Dyer, however there is a maximum of 8 boats allowed on the lake at any time. A single lane concrete ramp is provided for launching when the lake is full. When low it is a matter of launching off the firm bank in front if the camping area.
A Stocked Impoundment Permit (SIP) is required to fish at Lake Dyer.
Local stocking group:
Lockyer Valley Fish Restocking and Management Assn. 2 Alexander St. Laidley.Qld. 4341
Related Links:
Purchase Stocked Impoundment Permit on-line - QDPI&F
Lake Wivenhoe Information
Lake Somerset Information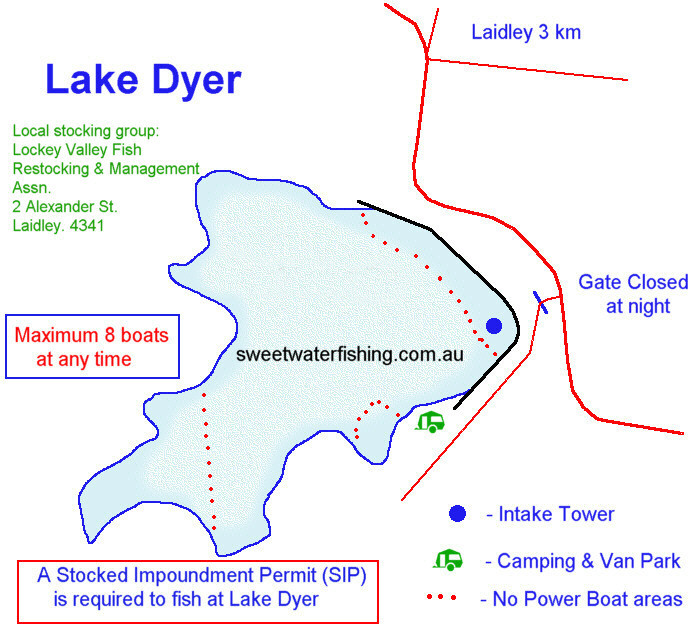 Click on map for larger printable version