Lake Wivenhoe ( Wivenhoe Dam ) - Fernvale / Esk. Qld
Lake Wivenhoe takes its name from one of the early farms in the district. The property was named after a maritime town in Essex, England, on the River Colne, near Colchester. It had been taken up by the Uhr brothers, one of whom was killed by the Aboriginals while working sheep in a yard near the present Lake Manchester. The surviving brother, together with a retired naval man, J.S.Ferriter, held the property for some time. It was bought by the North family in 1849, with some decendants still hold land around Wivenhoe today. Wivenhoe Inn nearby became a popular stopping place.
Access
Wivenhoe Dam is open during daylight hours only. The gates at Hamon Cove, Logans Inlet, Cormorant Bay & the Spillway Common are locked after hours.

Additional bank access is permitted at Cormorant Bay, Branch Creek, Somerset Park (on Stanley River arm below Somerset Dam wall), the information centre (next to dam wall) & O'Sheas Crossing (Brisbane River). Swings, toilets, drinking water, Bar B Qs, & picnic tables are provided at most locations. Due to budget cutbacks, the access points at Billies Bay, Hays Landing, Sheepstation Inlet, Maclean Point & Figtree lookout are now closed to the general public.
Fishing
Fish Stocked are Australian Bass, Yellowbelly, Silver Perch, Saratoga & Mary River Cod.
Other fish present are Fork Tailed Catfish (Silver Cobbler) Spangled Perch, Tilapia, Banded Grunter, Snub Nosed Gar, Eels, Qld Lungfish and Redclaw crayfish.
Lake Wivenhoe is undoubtedly the home of Big Bass in Queensland, possibly Australia being rivaled possibly only by Lake Genbawn in NSW or Wivenhoe's sister, Lake Somerset immediately upstream. However the restricted access and limited boating use mean that many of Lake Wivenhoe's big bass are left unmolested most of the time.
For those that put in the effort to become intimate with this huge lake, the rewards are certainly there for the taking.
Boating
Boating is allowed but with electric motor, paddle or sail power only. To stop pollution, no internal combustion engines are allowed to be used but can still be left on boats.
Outboard motors are permitted in the Brisbane River upstream of Barneys Rocks.
Camping
Camping is permitted at Captain Logans Camp, at the adjacent Lumley Hill or at Camp Somerset below the Somerset Dam wall.
Boat launching ramps are available at Logans Inlet & Hamon Cove.
A Stocked Impoundment Permit is required to fish at Lake Wivenhoe.

* No public access is allowed to the Splityard Creek Dam which is used for stored water to run the hydro-electric station.

Fish Management Group:
Somerset & Wivenhoe Fish Stocking Assn Inc.
Po Box 541 Ipswich. 4305
Related Information
Lake Level Link - BOM
Purchase Stocked Impoundment Permit on-line - QDPI&F
Topographical map of Hamon Cove
Topographical map of Platypus Cliffs
Article- Heavy Metal Bass Fishing
Article- Big Bass @ Big W
Lake Somerset Information Page
Lake Wivenhoe Water Level Guage / Graph

Click on picture to view larger version.
Lake Wivenhoe Fishing Map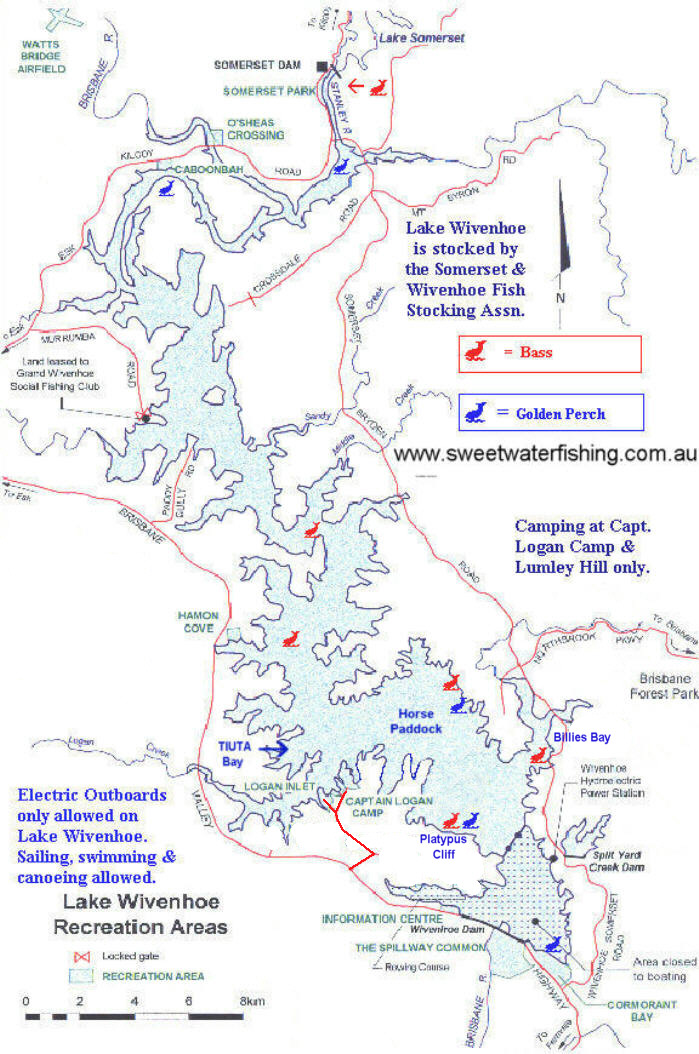 Click for larger printable version
Wivenhoe Dam Map