Built in 1984, Lenthalls Dam was named after the pioneering family in the district, the waters created by the dam are called Lake Lenthall.
The lake has a relatively small surface area of 400ha, an average depth of 3.9 meters and holds some 28 000 ML of water at full supply level.
It's main purpose is for town water supply for Hervey Bay City Council.
Lake Lenthall is situated approximately half way between Maryborough and Torbanlea along the Bruce highway. A further 7 km off the highway along a gravel road will find you at the lake.
Fishing
Lake Lenthall is officially stocked with Bass, Barramundi, Yellowbelly & Silver Perch but there has also been reports of Saratoga being caught here as well.
There are also Eels, Tandans and the introduced Spangled Perch present.
Bass have been the main species caught here however Barramundi are showing up more often and will no doubt give this location national publicity in coming years.
The increase in the popularity of this Lake Lenthall is partly due to the success of the barramundi stocking program here. It is the most southerly waters where the public can catch a barra (outside of fish farms).
Lenthalls is a pretty lake, being surrounded by tee tree scrub and often fringed by water lillies and weed beds.
It is a fantastic edge fishery and surface fishery however the restrictive access hours limit the surface fishing options noticably. Shallow diving lures cast towards the edged are a great way to catch both bass and barramundi. Flyfishing can also a be rewarding at Lenthalls. Standard barra & bass flies cast over, in & around water lillies and weed beds can see explosive strikes.
A stocked Impoundment Permit (SIP) is required to fish at Lake Lenthall, these are available locally at the road house a few km North of the turnoff on the Bruce Highway or Purchase Stocked Impoundment Permit on-line - QDPI&F
Boating
There is a concrete boat launching area just past the Lenthalls Dam Recreation Area next to the dam wall.

Recent advances in outboard engine technology have resulted in a significant reduction in engine emissions from newer clean engines. For example a 60hp 4-stroke or Direct Injection 2-Stroke engine emits less than 50% of the emissions as a 6hp carburetted 2-Stroke engine. These advances have warranted a review of the boating restrictions.
From 1 December 2007 boating restrictions at Lake Lenthall will allow:
* Speed Limit 6 knots - no wash and no skiing
* 4-Stroke and Direct Injection 2-Stroke engines up to 60hp. This equates to all 2 & 3 Star OEDA (Outboard Engine Distributors Association) rated engines.
* 1 to 6hp traditional 2-Strokes (0 and 1 star OEDA rated) permitted until January 2010.
Non-compliant engines (eg: 2 stroke carburettor and fuel injected outboards) are prohibited from using the lake. Additional restriction may be imposed on those engines that are clearly polluting the water (eg Smokey engines).
For more information contact Wide Bay Water Corporation on 1300 808 888
Camping
No camping is allowed at the lake but camping sites are available 10 km away at Wongi State Forrest Park. Telephone (07) 4123 5424.
Camping may be permitted once the facilities are up to the task of catering for higher numbers.
Access
Access to Lake Lenthall is from 6am - 4pm daily. Gates are locked outside of these hours. Ranger on site daily.
Local Fishing Guide
Paul Dolan - Fraser Coast Sportfishing 0407674350 Email
Lake Lenthall is stocked by the:
Fraser Coast Fish Stocking Association
PO Box 987
Hervey Bay, Q. 4655
Related Links
Purchase Stocked Impoundment Permit on-line - QDPI&F
Fraser Coast Fish Stocking Assn
Wide Bay Water
Surface Luring for Bass - Article by Garry Fitzgerald
| | | | | |
| --- | --- | --- | --- | --- |
| | | | | |
| Lenthall is one of SE Qlds prettiest lakes | Lake Lenthall was once a great night time option | A well coloured Lenthalls Barra | A good sized Lake Lenthalls Barra | Paul Dolan with a 65cm Barra |
Click on images for larger version
Lake Lenthall Map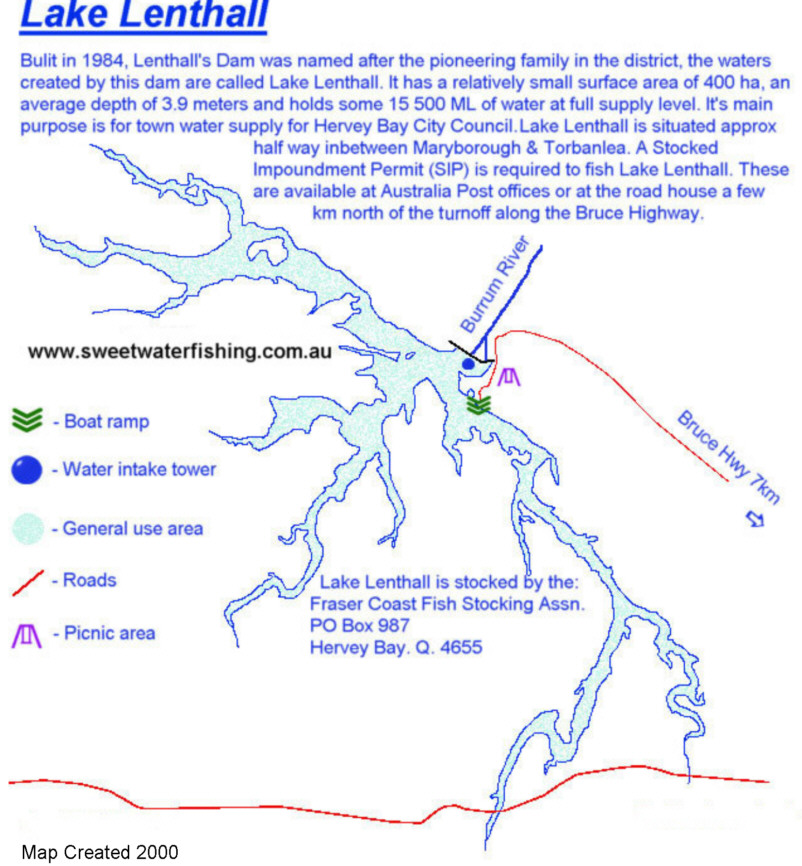 Click on map for larger printable version
| | | | |
| --- | --- | --- | --- |
| | | | |
| Lake Lenthall Boat Ramp | Carpark | Wongi Waterholes Camp Ground | Wongi Waterholes Amenities |