LAKE Mulwala was created by the building of the Yarrawonga Weir across the Murray River in 1939.
It was built primarily for for irrigation on NSW & Victoria sides of the border.
Lake Mulwala has a holding capacity of 117 500 mega-litres and covers some 4400 hectares when full.
The embankment is 271 meters long, seven (7) meters highand eight (8) meters wide at its base.
Lake Mulwala is probably Australia's most productive Murray Cod fishery.
Structure in the form of standing and fallen timber offers a multitude of ambush locations and breeding sites, enough so that the Murray Cod population here is self sustaining, a rarity for Murray Cod to do in any dam / lake situation.
Neil Slater's Slant on Mulwala
Lake Mulwala is one of the best places on the Murray River to catch a Murray cod. The cod population is fantastic, but a lot more sub 60cm fish are taken than those over that length. Cod exceeding 1 meter are taken each year, but catch and release is encouraged - especially for larger fish.
Golden perch also inhabit the lake, but anglers captures are often dominated by cod. GP's can exceed 4kg, but average closer to 1.5kg and respond to all methods of fishing.
Here's the few possies I've fished a lot:
The 'yellow trail' is a smaller tributary of the Murray that heads almost directly to Kyffins reserve boat ramp from 'the horseshoe'. It is 'reasonably' clearly marked with yellow paint and a few buoys at the horseshoe and red and green paint on the trunks of the dead trees as you get deeper into it. The yellow trail is about 3 - 5m deep.
Kyffins Reserve has very good lure casting with plenty of submerged timber.
The horseshoe, which is a very popular trolling possie, and other sections of the lake that are the old Murray river bed are often lined with the largest dead river red gums while the smaller tributaries have smaller trees (not always - just a guide).
The old river bed can exceed 10 meters and, generally, amongst the stumps (which can provide good lure casting drifting amongst them) is from 2.5 to 4 meters, but real shear pin territory with tree trunks from 200mm to close to a meter in diameter only a few centimetres under the water.
The cleared section closer to the wall (marked on the southern angler map) actually has an absolute NEST of logs lining the lake bed and still offers good trolling/lure casting for medium cod to 65cm when the skiers aren't there. The old river bed snakes through here, but it is very hard to follow as there are no trees lining its banks to guide you.
Most of the largest cod (15kg plus) are taken in the deeper sections by trolling lures or bait fishing and the more shallow areas can have greater populations of cod from 200mm to 65cm.
The use of surface lures and flies for cod is very popular when the weather is warmest (Feb.). Just pick an area where the water is relatively shallow (3 - 4m max) and/or has good cover nearby cover such as willow trees or heavy sub surface timber.
The lake has a good population of golden perch that will take the largest size lures intended for cod on occasions.
Best sinking flies are those with a strong mono weed guard to fend off the logs. Dahlberg Divers can be dynamite when the cod are on the surface lures just on dusk or dawn.
There are many lures that take cod and goldens in lake Mulwala and to try and mention them all would take forever. Most good cod lures dive deep, are relatively large (8-150cm)) and have a wide slow action. Spinnerbaits have enjoyed good success for lure casters as have smaller, wide bodied deep diving lures often used for golden perch.
The lake has a big population of carp, but numbers have dropped over the last 10 or so years. Most accessible banks on the lake are very good for land based bait fishing with many of them giving access to the old Murray river bed and 10 meters of water eg: Hogan's Lane boat ramp.
Shrimp can easily be trapped in the shallows with a collapsible bait trap baited with either chop fat, bacon fat, gum leaves or bread if you have none of the above.
Bardi grubs are best for cod and tinned corn kernels will see you entertained with carp.
Small yabbies, worms or shrimp will take all fish in the lake.

A NSW Recreational Fishing Licence is required to fish at Lake Mulwala. You can purchase them online HERE.
Neil Slater
Related Topics:
Purchase NSW Recreation Fishing Licence Online
Casting for Cod in Mulwala's Margins - Article by Neil Slater
Lake Mulwala Hotspots - Article by Ian Stead
2005 Cod Opening Classic Report - Neil Slater
2006 Cod Opening Classic Report - Neil Slater
Lake Mulwala Map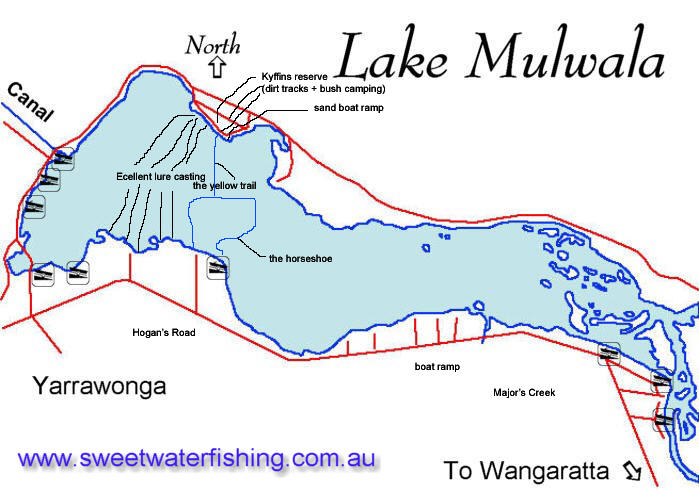 Click on map for larger printable version