The Paradise Dam is a relatively new impoundment. Completed in November 2005 by the Burnett Dam Alliance, Paradise Dam will hold 300,000 megalitres of water.
Situated approximately 20kms north-west of Biggenden and 80kms south-west of Bundaberg, the dam sits at the site of historical mining town of Paradise, hence the name of the dam.
A fish ladder has be included in the dam design. It is hoped that this will allow some migration of fish as part of thier natural cycle.

Fishing
The Burnett River was stocked both upstream and downstream prior to the construction of Paradise Dam.
These include Australian Bass, Barramundi, Golden Perch and Silver Perch.
There are breeding populations of Eel-Tailed Catfish, Fork-Tailed Catfish, Spangled Perch and the endangered Queensland Lungfish.
Since construction there have been no fish stock here however there are plans for a Fish Management Program.
It would be reasonable to expect that there are some fish to be caught in Paradise Dam at time of writting.
Boating
There are no boating restrictions on Paradise Dam with the exception of an exclusion zone at the dam wall.
There are many submerged trees, rocks and tree stumps so navigation should be done with care at all times.
A concrete boat ramp is provided however this is only usable at high water levels.
*The bank immediately in front of the boat ramp / carp park is a sheer drop off. Resist using this for launching when water level is below the concrete ramp.
Boats can be launched from the bank at the first bay on left upstream of the recreation area, follow the track to left from ramp.
Alternatively, boats can be launched from Mingo Crossing at top end of the lake when at 10% capacity or higher.

Facilities
There are BBQs, picnic shelters, toilets, fish cleaning tables, lookout (with interpretation info), drinking water provided.
Related Links
Paradise Dam Water Level Link - Sunwater website
Paradise Dam Map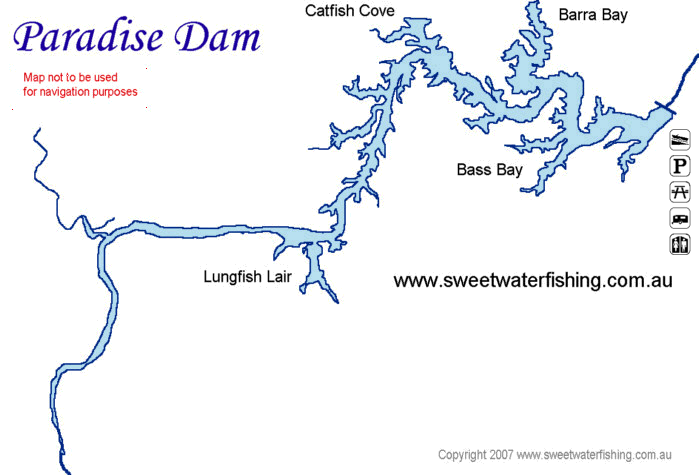 Click on map for larger printable version
Paradise Dam Map


Garra Lures. Hand crafted & signed by Terry Marshall. Get yours HERE

Sweetwater Videos