LAKE Purrumbete was once famous for it's gargantuan trout from its seemingly bottomless depths. It once held the world record for growth rates for 3-year-old rainbow trout at a mammoth 11.3kg!
At more than 60 meters deep, I'm sure there are still some true monsters dwelling that still evade capture.
The lake is located just before the town of Camperdown on the Princess Highway about 1½ hours drive from Geelong.
The Lake Purrumbete Caravan Park has cabins, ice, public toilets, mooring facilities, jetties, fish cleaning facilities, day parking and a dual lane concrete boat ramp capable of launching boats to 6 meters and another boat ramp capable of launching boats to 4.5 meters during periods of good water level. See Accommodation index for details.
All other access to bank fishing is either by walking, private property or boat.
The banks are heavily weeded at places, but the depth drops sharply once away from the bank so wade with caution.
The lake is in a shallow volcanic crater that still renders the lake 'fishable' during moderate winds with decent boats.
The water is crystal clear most times of the year as the lake relies totally on its own catchment rather than run-off like other lakes.
The lake is crawling with galaxid minnow, bullhead (or gudgeon), mudeye, redfin fry, damsel nymphs and other aquatic insects.
Lake Purrumbete is stocked with rainbow and brown trout to 4kg (av.1.3kg), Chinook salmon to 4kg (av. 1kg), eels to 4kg (av. 1kg) and has a natural stock of redfin to 2kg (av. 700g).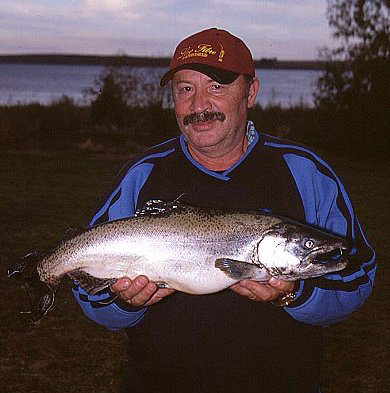 Tony Dorner holds a 4.3 kg Purrumbete Chinook salmon
(Click on image to see a larger version)
Best baits include salt-water baits such as glassies, bluebait, pilchards and whitebait. Traditional freshwater baits include; live mudeye, minnow and locally trapped gudgeon.
Best rigs are unweighted baits for deep fishing and bubble or quill floats for fishing adjacent to the weed beds.
Trolling is very popular and with the use of downriggers, planer boards and flat lines, you can greatly enhance your chances of tackling with a Purrumbete resident.
Best lures for a bright day need to get deep due to the water clarity. Either use lead line, downriggers, paravane or ultra-deep divers to attain the depth of the fish showing on your sounder.
Overcast days will see the fish remain on the surface a little longer and thus prolong activity.
The local redfin population respond well to jigs and deeply fished baits and lures as well as trout. Once a school is located, they can often be tempted by a few quick twitches of an ice jig or Baltic Bobber.
Fish do not often respond to dry flies, but can be seen smelting on occasions.
Drifting the shallows on a calm day, with the aid of an electric motor can casting at rising or fossicking trout can be very productive in this water due to its excellent bank side cover (in the form of weed beds) for the fish.
Best lures often have flashy or sparkly paint jobs. Due to the clear water, the fish can see these lures from a distance. Having said that, black lures are also a favourite in Lake Purrumbete so take a good spread.

Neil Slater