Theresa Creek Dam is located 22 km south west of Clermont in central Queensland.
While currently this location is hardly mentioned as a fishing destination, it has a big fishing future. Being located well inland, Theresa Creek will be less affected by coastal south-easterly winds which can often put barra in coastal lakes "off the bite".

History
It was was constructed in 1983 by the Blair Athol Coal Project to supply water for the town of Clermont.
The lake has a surface area of around 300 hectares.

Fishing
Fish present: Barramundi, Golden Perch, Eel-Tailed Catfish, Sleepy Cod, Silver Perch and Bony Bream.
No fishing is permitted 200 meters above & 400 meters below the Theresa Creek Dam wall.
Theresa Creek Dam & Hoods Lagoon are stocked by the Clermont Fish Stocking Group.
Boating
There are no boating restrictions on Lake Theresa.
A concrete boat ramp is provided.
Camping
Bush camping is allowed at Lake Theresa, however a permit is required. Cost is $5 / night / site. Permits are available at Belyando Shire Council office at Clermont between 8.45 a.m. and 5.00 p.m. weekdays. For further enquiries telephone (07) 4983 1133. No powered sites are provided.
Coin operated BBQs, picnic area and toilets hot showers are provided, however the water is not for human drinking. There is no drinking water on site, so take your own.
Hotel / Motel accomodation provided in Clermont or Emerald. Go to the Accommodation page for details.

Related Links
Theresa Creek Dam Rules & Boating Application - Belyando Shire Council
Clermont Fish Stocking Group
Lake Maraboon / Fairbairn Dam Information Page
Bundoora Dam Information Page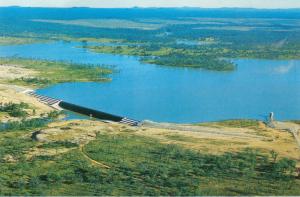 Image source: Belyando Shire Council