Toonumbar Dam was built across Iron Pot Creek in 1972. It holds 11 000 mega-litres of water and has a surface area of around 400 hectares when full.
Access
Toonumbar Dam is around 31 km west of Kyogle. The road is often in poor condition and is impassable to two wheel drives after any rain. Towing larger boats here may not be advisable in the best of conditions. Expect trailer damage, be prepared for the worst as its a long walk back to Kyogle.
Fishing
Toonumbar Dam is regularly stocked with Australian Bass & East Coast Cod.
This location has a reputation for producing good numbers of bass at times, even if the sizes arent there compared to Wivenhoe and Glenbawn. Its reputation as an edge fishery is well deserved.
East Coast Cod are totally protected.

A NSW Fishing Licence is required to fish at Toonumbar Dam.
Facilities
Near the dam wall there is a public access area with picnic tables, toilets and BBQs.
Camping is permitted at Bells Bay with a small fee required to assist with maintaining the facilites here. Facilities include shelter sheds, toliets, rain water tanks, BBQs, a jetty and boat ramp. These were provided by the local fish stocking group.
Boating
Boats can be launched near the dam wall or at Bells Bay. *Use extreme caution when launching here as there is a steep drop off below the boat launching area.
Toonumbar Dam is open to all forms of boating, however a speed limit of 8 knots applies throughout the Lake Toonumbar.
Local Fish Stocking Group
Kyogle Fish Acclimatisation Society
PO Box 711
Kyogle. NSW. 2474
Email
Related Links
Fishing Reports & Feedback
Toonumbar Dam Water Level Link
Purchase NSW Fishing Licence Online
Kyogle Weather Station including Webcam
Clarrie Hall Dam Info Page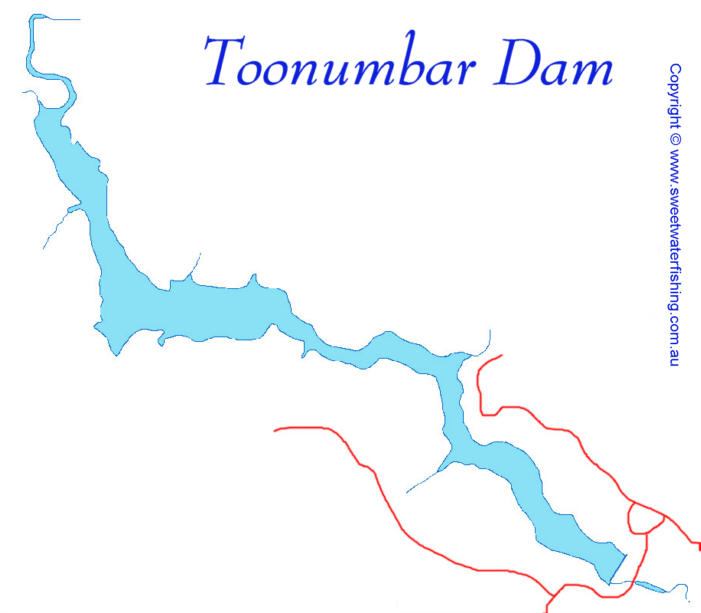 Click on map for larger printable version