Construction of Bjelke-Petersen Dam commenced in 1984 and finished in 1988 creating the lake that was named "Barambah" after the original property in the region.
The dam is constructed of earth and rock with a central clay core with an adjacent saddle dam of similar construction.
The main wall is 540 m long with a maximum height of 34 m and is 135 m thick at the base.
The water surface of Lake Barambah is 2150 ha and holds 125 000 mega-litres coming from a catchment area of 1670 km squared. Lake Barambah is commonly referred to as BP Dam.
Fishing
Lake Barambah has been stocked with Golden Perch, Silver Perch, Saratoga and Australian Bass.
There are breeding populations of Tandans (Eel Tailed Catfish) & Spangled Perch here as well as the illegally introduced Sleepy Cod and Redclaw Crayfish.
Once overshadowed by the likes of Lake Somerset and Wivenhoe, Lake Barambah has come of age in the last few years and is now regarded as one of the big bass impoundments in Queensland.
A Stocked Impoundment Permit (SIP) is required to fish Lake Barambah.
Boating
There are normally no boating restrictions on Lake Barambah. There is a no boating / fishing zone in front of the dam wall.
There are two boat ramps provided. One adjacent to the dam wall and another immediately below the camping area.
Camping & Accommodation
Camping is permitted on site with limited cabins available. There are other tourist parks and hotel / motel style accommodation close by in Murgon.
See Accommodation page for details.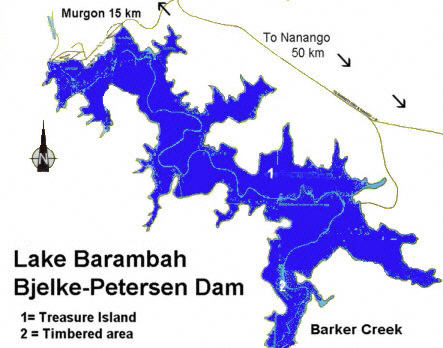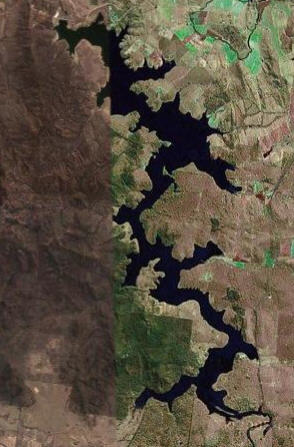 Click on images above for printable versions

Related Topics:
Heavy Metal Bass Fishing - Article by Garry Fitzgerald
Beginners Guide to Lake Barambah - Article by Garry Fitzgerald
Bass Fishing Lake Barambah - Article by Garry Fitzgerald
Purchase Stocked Impoundment Permit on-line - QDPI&F