Lake Gregory (Isis Balancing Storage) - Childers / Bundaberg. Qld
LAKE Gregory, also known as the Isis Balancing Storage or simply as the "Duckpond" is a small impoundment between Bundaberg & Childers. It is a mere 200 ha in area with an average depth of 3.1 meters & holds just over 6000 ML of water at full capacity. Access is via the Isis Highway turning into Voss Road and finally turning right into the dirt track when you seen the small pump shed.
Fishing
Officially stocked with only Bass & Silver Perch, several captures of Saratoga & Tarpon have been reported. Being a shallow lake, weed beds dominate the fringes and can be a menace to anglers although there are some deeper sections up to 30 feet, namely across from the gravel boat ramp.

A Stocked Impoundment Permit (SIP) is required to fish Lake Gregory.
Boating
There are no boating restrictions on Lake Gregory. Dam operators Sunwater, have a rule of no more than 6 knots, however this has not been verified by Maritime Qld.
There is no concrete boat ramp however bank launching is possible adjacent to dam wall. It is of a low gradient. Large boats may not be suited to this lake.

Camping / Facilities
Camping is not permitted here.
There are no facilities provided for visitors to Lake Gregory.
No toilets, showers or drinking water are provided so take everything you need with you & take your rubbish home.

Related Links:
Purchase Stocked Impoundment Permit on-line - QDPI&F
A Day at the Duckpond - Article
Lake Gregory Map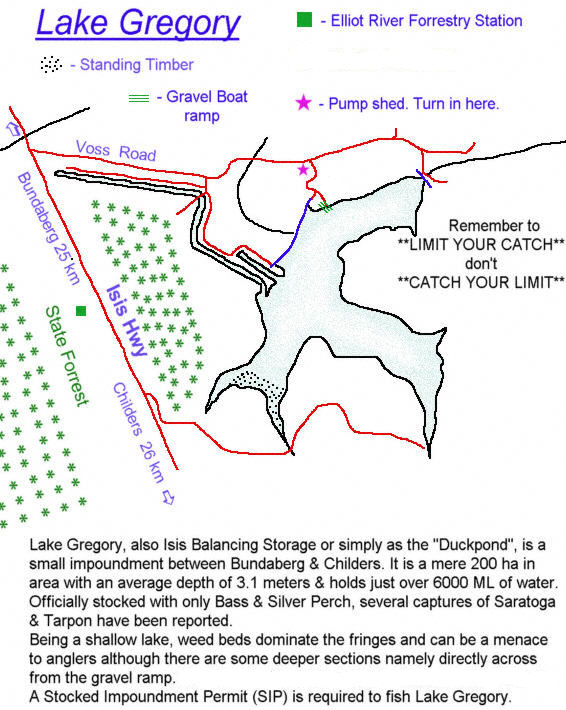 Click on map for larger view
Lake Gregory ( Isis Balancing Storage ) Map
ping