Moogerah Dam is one of South East Queensland's more established lake fisheries.
The word Moogerah is said to be a local Aborigine word meaning "place of thunder storms".
The lake is of medium size being 880 ha with an average depth of 10.5 meters.
The solid concrete wall holds back 92500 ML of water below the confluence of Coulsons and Reynolds creeks.
Below the dam is a scenic gorge that flows into Warrill Ck & then into the Bremer & Brisbane Rivers.
Fishing
Lake Moogerah has been stocked with Australian Bass, Golden Perch, Silver Perch, Mary River Cod and Saratoga, although the stocking of Saratoga seems to have failed at this stage.
* A Stocked Impoundment Permit (SIP) is required to fish at Lake Moogerah.
Boating
There are no boating restrictions on Lake Moogerah.
There is a no boating / fishing zone around the dam wall.
Two concrete launching ramps are provided however in recent times Moogerah Dam has suffered from low water levels for extended periods.
This hasn't effected the fish too any great extent, however it makes launching difficult when there is no water on the ramps.
A 4X4 is recommended when water levels are low.
*Caution should be used when navigating on Lake Moogerah due to the large amount of standing & submerged timber in the water.
Camping
Camping is allowed at A.G. Muller Park and is a popular spot for the water skiing fraternity.
Camping is also permited at some downstream camping grounds with Hotel / Motel style accommodation can be found at Aratula, Kalbar & Boonah.
See Accommodation page for details.
Local Stocking Group:
Maroon Moogerah Fish Stocking Assn
Related Links:
Purchase Stocked Impoundment Permit on-line - QDPI&F
Lake Maroon (Maroon Dam) Information Page
Lake Wyaralong Information Page
| | | | | |
| --- | --- | --- | --- | --- |
| | | | | |
| Lake Moogerah at approx 20% capacity | The Gorge in Lake Moogerah is a favourite swimming spot. Extreme care should be taken if doing so. | Moogerah Dam wall | View from dam wall down Reynolds Creek | Reynolds Creek below Moogerah is a great, safe swimming spot |
Lake Moogerah Map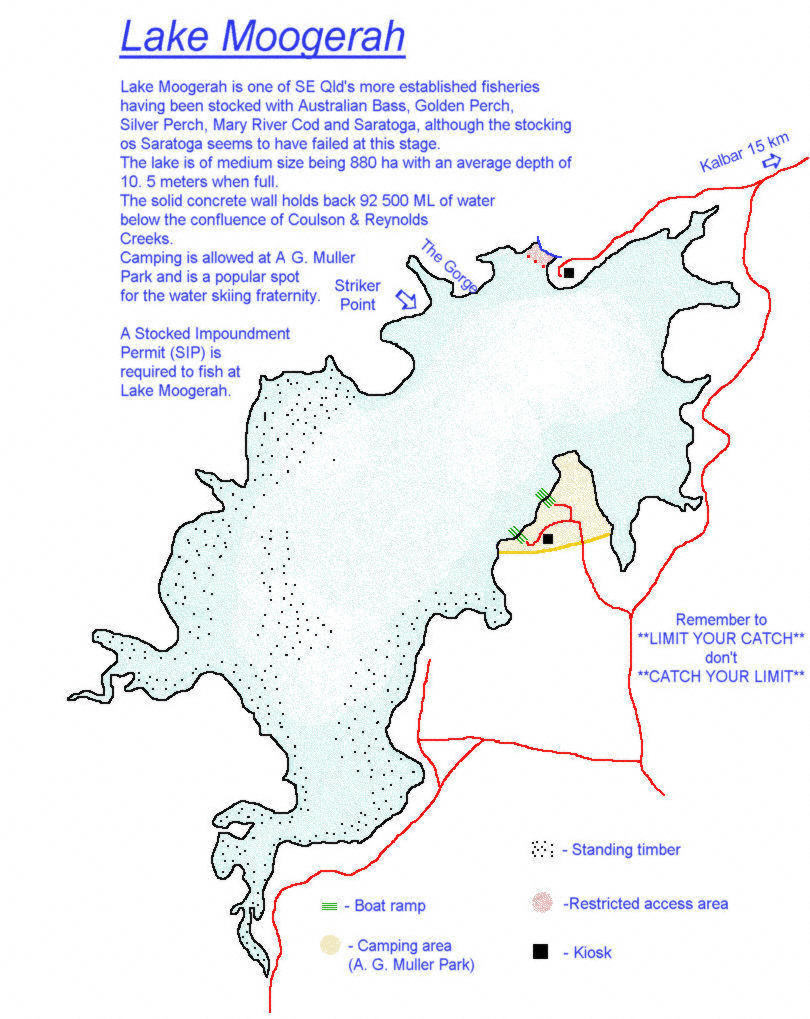 Click on map for larger printable version