Situated 13 Km east of Inglewood on the Cunningham Highway lies Coolmunda Dam. Constructed in 1968 for irrigation & town water, the lake holds 75 000 ML of water at 100% capacity at an average depth of 4.3 m and has a surface area of 1 740 ha.

Fishing
Thanks to the tireless efforts of the local fish stocking group, Coolmunda is stocked with Murray Cod, Yellowbelly and Silver Perch. There are naturally occuring populations of Tandans (eel tailed catfish) and Spangled Perch. The recent dicovery of European carp in Coolmunda is a concern. One carp was found with a hook through it's back so there is not much doubt about how they arrived.
There is an annual fishing competition here, see the Events Calendar for details.

Boating
There are no boating restrictions here but caution is advised when travelling around the lake by boat due to the standing timber.

A Stocked Impoundment Permit (SIP) is required to fish at Coolmunda Dam.
Related Links:
Purchase Stocked Impoundment Permit on-line
Leslie Dam Information Page
Storm King Dam Information Page
Glenlyon Dam Information Page
Coolmunda Camping Area Entry
Coolmunda Boat Ramp
Camping Area Entry
Coolmunda Developement
New Amemities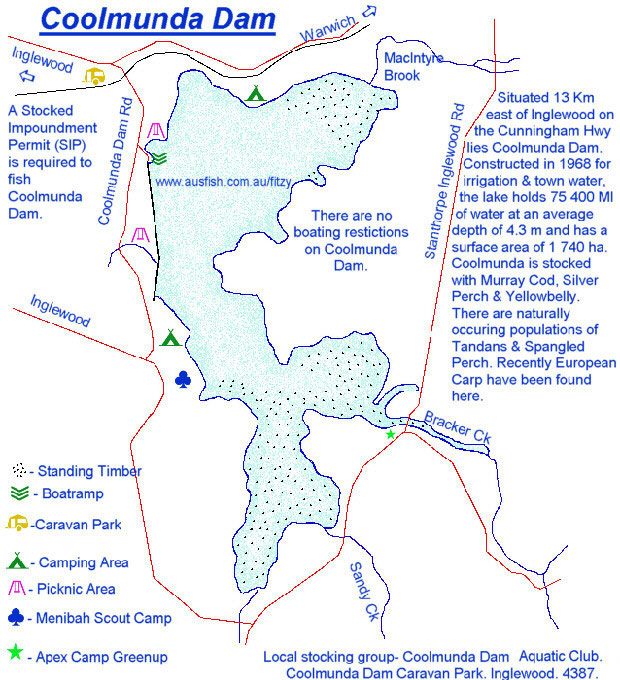 Click on map for larger printable version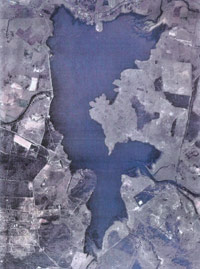 Click for larger printable view
The above map provided by local fish stocking group
Coolmunda Dam Aquatic Club