Lake Samsonvale Fact Box

River System:
North Pine River
Capacity
215 000 mega-litres
Surface Area
2 200 hectares
Average Depth
10 meters
Fish Present
Bass, Golden Perch, Silver Perch, Mary River Cod, Saratoga, Snub Nosed Gar, Tilapia, Eels, Spangled Perch, Catfish & Lungfish.
Lungfish are totally protected and must be returned to the water immediately.
Redclaw crayfish were illegally released into Lake Samsonvale and have established a population.
At times it is the redclaw crayfish that attract most attention to this lake.
Stocked Fish
Bass, Golden Perch, Silver Perch, Mary River Cod & Saratoga.
*Tilpaia are a Noxious fish. They must not be returned to the water in any way & must not be taken away.
Tilapia should be disposed of in bins provided at the lake or buried above the high water mar.
Large penalties may apply to offenders.
Boating
Boating at present is only permitted via an access scheme run the the local fish restocking group (PRFMA) in the main arm of the lake.
Permits cost $100 / annum. Monies raised are utilised for future fish stocking initiatives.
Access
Bank access only is permitted at offical recreation areas.
Camping
Camping is not permitted at LakeSamsonvale.
Hotel / Motel available in Petrie. See Accommodation page for details.
Fish Restocking Group
Pine Rivers Fish Management Assn.

Related Links
Bass Fishing Lake Samsonvale
Heavy Metal Bass Fishing Article by Garry Fitzgerald
Lake Kurwongbah Information Page
Lake Somerset Information Page
Lake Wivenhoe Information Page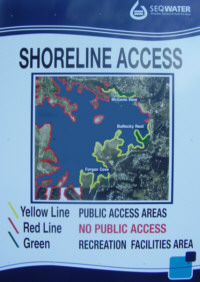 Signs like this were erected at access points in 2007
Lake Samsonvale Map