One of Qld's more established freshwater fisheries. Eungella has made a name for producing extra oversized Sooty Grunter and more recently Barramundi.
Constructed in 1969 for irrigation and hydro-electric power, Eungella Dam holds 131 000 ML of water at an average depth of 14.7 m and has a surface area of 890 hectares at full capacity.
Fishing
Eungella Dam is stocked with Sooty Grunter, Saratoga, Sleepy Cod and Barramundi.
Local stocking group, Mackay Area Fish Stocking Assn, are one of Qld's most pro-active groups. MAFSA run their own fish hatchery breeding Sooty Grunter to be stocked into Eungella, Kinchant & Teemburra dams.
Boating
There are no boating restrictions here however no boat ramps are provided. Smaller boats can be launched a one of the designated areas.
Bush camping is allowed with toilets, cold showers, BBQs, picnic tables & play ground provided.
Accomodation
Accomodation is available 25 km away at Eungella township. See the Accommodation page for details.
Other Attractions
The Eungella National park is a must see when you are here, particularly the platypus pool that is also home to some rather large eels.
A Stocked Impoundment Permit (SIP) is required to fish at Eungella Dam.
Related Links:
Purchase Stocked Impoundment Permit on-line
Teemburra Dam Information Page
Kinchant Dam Information Page
Winter Barra, Deep or Shallow - Article by Garry Fitzgerald
Gearing Up for Big Lake Barra - Article by Jason Bird
Impoundment Barramundi - Article by Garry Fitzgerald

Eungella Dam Map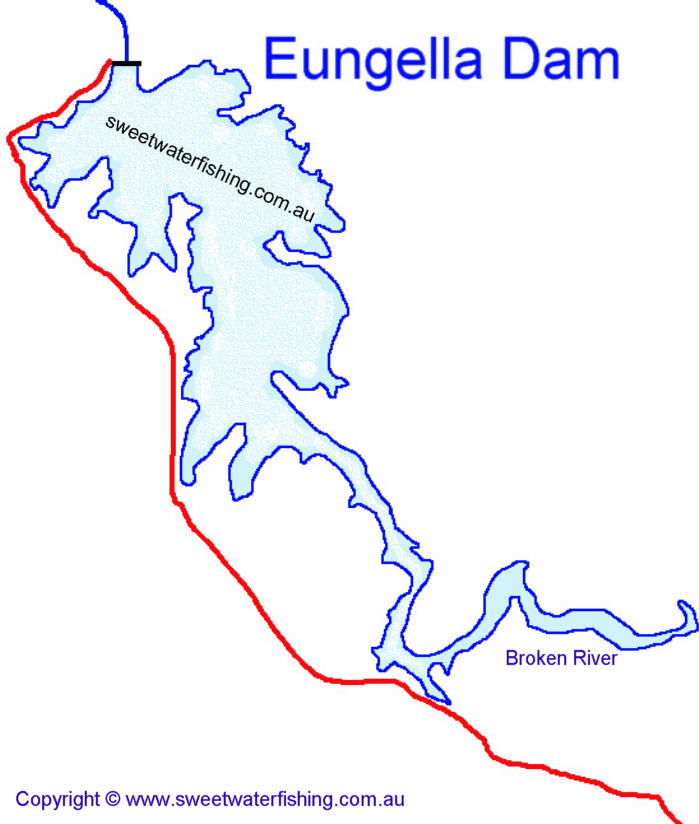 Click on map for larger printable version