Kinchant Dam was built on Sandy Creek to provide irrigation & town water in 1977.
Built in 1977 on Sandy Creek, Kinchant holds 62 800 ML of water at an average depth of 6.8 m and has a surface area of 920 hectares when full.
Fishing
Fish stocked here are Sooty Grunter, Sleepy Cod and since 2000, Barramundi. There are also breeding populations of Fork Tailed Catfish, Eel Tailed Catfish, Spangled Perch and Mouth Almighty.
* A Stocked Impoundment Permit is required to fish here.
Boating
There are no boating or speed limit restrictions here, thus is very popular with the water ski fraternity. A concrete boat ramp is provided.

Camping
Camping is permitted. Fees apply.
Getting There
To get to Kinchant Dam, travel west from Mackay through North Eton and follow the signs to the dam, which can also be accessed via a bitumen and dirt road from Mirani, past the Pioneer Valley Golf Course. At Kinchant there is a park area overlooking the dam, ideal for picnics with BBQs and toilets. It has a kiosk, licensed restaurant & cabins.
Local Fish Stocking Group:
Mackay Area Fish Stocking Assn.
Related links
Purchase Stocked Impoundment Permit on-line - QDPI&F
Teemburra Dam Information Page
Eungella Dam Information Page
Water Level Link
Winter Barra, Deep or Shallow - Article by Garry Fitzgerald
Gearing Up for Big Lake Barra - Article by Jason Bird
Impoundment Barramundi - Article by Garry Fitzgerald
Kinchant Dam Map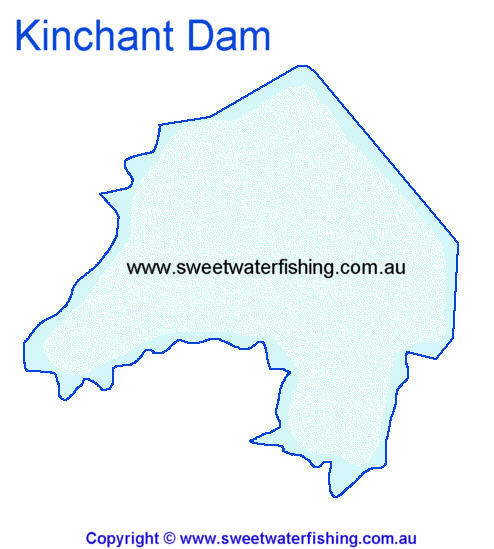 Click for larger printable version