TEEMBURRA Dam was constructed in 1997 for town water storage and irrigation purposes. It is located approximately 50 km west of Mackay on a well sealed road.
In fact you would almost pass it if you were going to Eungella Dam.
It has a surface area of 1040 hectares, an average depth of 14.2 meters and holds 147 500 mega litres of water at full capacity.
Fishing
Local fish stocking group Mackay Area Fish Stocking Assn (MAFSA) stock Sooty Grunter and Barramundi here and have set up their own community hatchery to breed Sooty Grunter.
A Stocked Impoundment Permit (SIP) is required to fish at Teemburra Dam.
Boating
A horse power limit no longer applies to boats on Teemburra Dam, however no water skiing is allowed.
A single lane concrete ramp is provided.
Camping / Accommodation
There is no camping allowed at the dam.
Accommodation is available at nearby towns, see Accommodation index for details.
Related topics
Water Level Link
Purchase Stocked Impoundment Permit on-line
Eungella Dam Information Page
Kinchant Dam Information Page
Winter Barra, Deep or Shallow - Article by Garry Fitzgerald
Gearing Up for Big Lake Barra - Article by Jason Bird
Impoundment Barramundi - Article by Garry Fitzgerald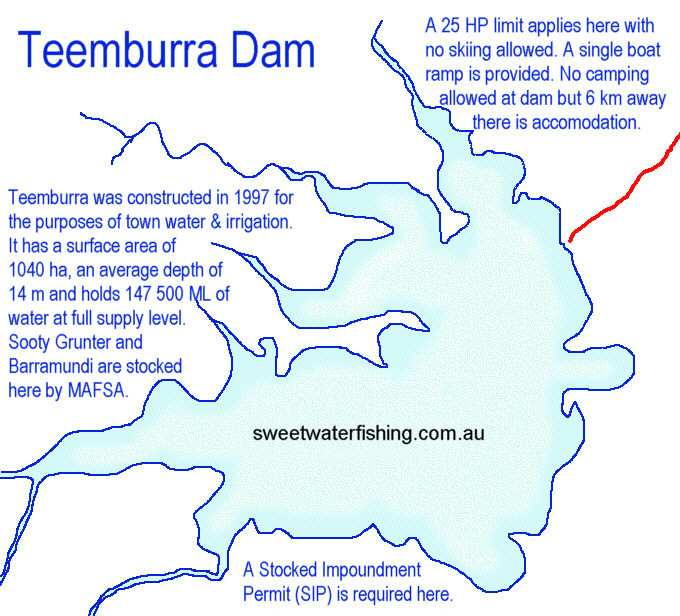 Click for larger printable view