A lot has been written about trolling lures for trout. But little is penned about the under utilized shallows of a lake. Fly fishermen know about it - so why do so few lure trollers take advantage of the shallows?
The shallow margin of a lake is often where all the food is located.
This is because the light penetrates the water easier in the shallower water, which is essential for aquatic weed growth. This thriving weed provides food and shelter for insects and small forage fish. So it makes sense for larger fish, such as trout, to hang about these areas during times of hunger or opportunity.
Times
Of course, midday on a sunny, dead - calm day nudging 40oC is not the time to be looking in shallow water for trout that much prefer water temperatures below 19 - 20oC. These are the days of down rigging or deep bait fishing.
You need to pick your times carefully for shallow water trout fishing. More often than not, these 'windows' of opportunity last only a few hours during first and last light. You must make the most of your time on the water by getting in the water before daybreak.
Best times of the year normally coincide with the cooler months, but rules are meant to be broken!
During summer, dawn is when the water temperature is coolest, so it makes sense to get out of bed early - the trout do!
Some of the best fishing can be had after a warm night when there are mudeye shucks all over the tree stumps. This is a good indication there has been a mudeye hatch recently and the trout might still be in the shallows hunting about for an easy feed.
Now many fly fishing enthusiasts will say the trout will be focussed totally on mudeye and will never touch a lure. This is not always the case. Trout can be just as much opportunistic as well as selective as far as feeding goes and will quite often slash at a lure that passes close by - no matter what they are feeding on!
If a hungry fish is in the shallows searching for mudeye and a small fish happens by, he will not pass it up!
This time of year when it's a hellava lot harder to drag yourself out of a nice warm bed and onto a freezing cold lake, the trout can bite all day in the shallows. This can lead to fishing 'gentlemen's hours' as some people refer to it. Basically, if the trout feel safe enough, they'll stay in the shallow water and feed all day. A good day to concentrate your trolling efforts in shallow water would be cool and overcast with a slight breeze.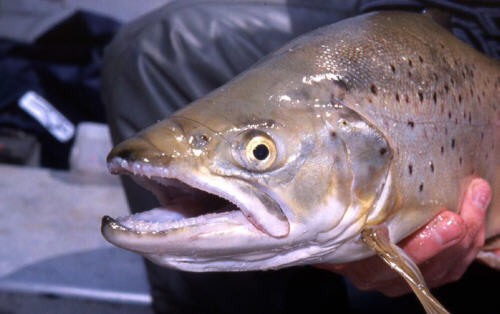 Hazards of the Shallows
Many unseen obstacles such as weed growth and fallen timber can hamper trolling in the shallows. But this is what the fish like, so get your lures amongst it!
Weed can be the worst obstacle because your sounder might be showing 3 meters of depth, and then all of a sudden you are onto a clump of weed stretching all the way to the surface! Some times the first trolling run around a lake or along a new shore can be a bit frustrating as far as stopping to remove weeds or unsnag lures. Make a mental note where these weed beds are and for the next pass take it out a few meters so your lures run as close to the weeds as possible without fouling.
Some lakes are notorious for underwater obstacles of the worst kind such as rocks and logs. These can be particularly damaging to both boat and wallet, so if you're unsure, keep clear.
How Fast?
Trolling speeds are pretty much dictated by the lures you are using. Run the lure beside the boat with at least 2 meters of line out and watch how it swims while varying the speed of the motor. This is the best way to get an idea of how fast you should be moving while dragging along specific lures.
A lot of lures have a fairly broad speed range at which they will work. Try different speeds for the same lure. For example, try trolling extra slow so the lure is just wobbling or speed up and move your rod tip erratically so the lure looks like a baitfish that is desperately trying to avoid capture.
Trolling different styles of lure can narrow the effective speed range that you can troll. For example, a Tassie devil works well at a brisk walk whereas some minnow lures will 'loop out' at this pace. Therefore, if you have a minnow lure out the back alongside a Tassie devil, you may need to allow for this by adjusting your trolling speed to one that is suitable for both lures.
The Lures
Best lures for trolling the shallows are, of course, shallow divers. As a rough guide, lures that dive deep have larger surface area on their 'bibs'. Now there is no need to hunt about for a calculator when buying or sorting through lures. As you gain experience, you will be able to tell approximately what depth lures dive to just by looking at them!
A few good shallow-diving lures to grab next time you're going to unload at a tackle shop are; gold and, silver wobblers (these are great lures for super - shallow work), Rapala 3, 5 and 7cm range, Knoll's native minnow, Attack minnow, Merlins, Downunder Min Mins, Tassie Devils and Lofty's Cobras.
Both Tassie Devil and Lofty's Cobras make ultra small 5-gram lures that can run in the shallowest of water. These should be run back behind the boat at least 30 meters if you intend to use them in water 2 meters or less.
The smallest of these runs very shallow indeed and are probably best suited to around 3 meters unless you are trolling with an electric motor.
The Tackle
Most trout trollers prefer 2-3kg breaking strain lines, as this not only provides good sport, but the least restriction for lure action.
Braided lines give fantastic 'feel' when trolling. When trolling using these 'super lines', it is possible to pick up a piece of weed no larger than a 5C piece stuck to your lure - this is simply not possible with monofilament lines and shallow running lures.
But braided lines give terrible tangles when lures collide or tumble. So if you're prone to turning tightly or run more than 2 lures out of a small boat, I'd suggest trolling with monofilament line.
When trolling shallow running lures, rods used should be a light action so they have a gentle bend in them. If your rod is too stiff, there is the added chance of hooks pulling from fish, less 'feel' when trolling and more chance of line wrapping around the rod tip. The most comfortable shallow water trolling rods are around 2-3kg. Both bait casters and 'egg-beater' style reels are fine and should be matched to the rod used - ie: reels that hold around 100- 200m of 2 - 3 kg line.
Petrol or Electric?
There are many arguments for both. I recently spoke to well known Werribee fisherman, John Didge about trolling lake Modewarre near Moriac. He has had better success trolling there using his electric motor, whereas I have had good success using petrol. The lake margins of Modewarre are around 2 - 3 meters and can yield some fantastic shallow water trolling this time of year.
There is no doubting the advantage of stealth the electric has over the petrol. If you intend to cast lures, or troll water shallower than 3 meters, an electric has a much quieter approach than petrol driven motors.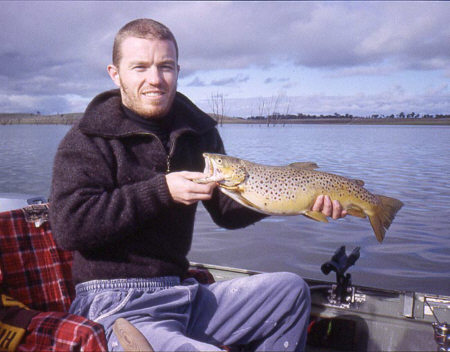 Good Lakes for Shallow Water Trolling
Victoria is blessed with many lakes to choose from and most of them can offer some spectacular shallow water trolling for trout.
Some better-known ones are Lake Modewarre and Murdeduke near Geelong and Winchelsea. Close to Melbourne is the popular Lake Eildon. Lake Fyans, Lake Wartook, Lake Toolondo and Rocklands reservoir in the west are renowned for their large trout in the shallows. Deep Lake near Derrinallum and Elingamite near Cobden are shallow lakes that offer some big fish during cold months. Cairn Curran reservoir near Malden has some fantastic shallow water trolling during winter. Lake Hume near Albury doesn't put out a lot of fish, but the trout that come out of here can be monsters. Pykes Creek reservoir near Ballan has some nice grassy flats with little underwater obstructions, which makes for some good shallow water trout trolling.
So next time you head for a trout trolling session, don't discount the fishing that can be had dragging some shallow divers in close. It can be well worth your while!
Neil Slater