Moondara Dam was constructed in 1957 for the purpose of town water & industrial use.
The lake's name, Moondarra, came from a public contest held at the time. It has a surface area 2375 hectares and holds 106 000ML of water at an average depth of 6 meters when full.
The lake is used for various recreational activities such as canoeing, sailing, boating, skiing, swimming, picnics, and increasingly, fishing. The lake is also the main source of freshwater for Mount Isa and a Fresh Water Lagoon was built to allow the war to naturally filter through reeds and for particles to settle out before pumping to Mount Isa.
Fishing
Fish Species available are Barramundi, Sooty Grunter, Saratoga, Alligator Gar, Fork-tailed Catfish, Jew, Archerfish, Spangled Perch & Sleepy Cod.
Lake Moondarra is the main target for fish stocking in the Mount Isa region.
The Mt Isa Fish Stocking Group also has a fish breeding facility located at the Freshwater Lagoon adjacent to the lake.
Fishing Competition. The Lake Moondarra Fishing Classic is in October. See the Event Calendar for updates.

Fishing Guide - None
Boating
No boating restrictions apply here. Concrete boat ramps are provided.
Facilities
Other facilities include tables, toilets, shelters, BBQs & drinking water.
Camping / Accomodation
No camping at the lake, however accomodation is available in Mt Isa. See Accomodation page for details.
Related Pages
Lake Belmore - Croydon
Chinaman Creek Dam - Cloncurry
Corella Dam - Cloncurry
East Leichardt Dam / Lake Mary Kathleen - Mt Isa
Lake Fred Tritton - Richmond
Lake Julius - Mt Isa
Lake Moondarra Map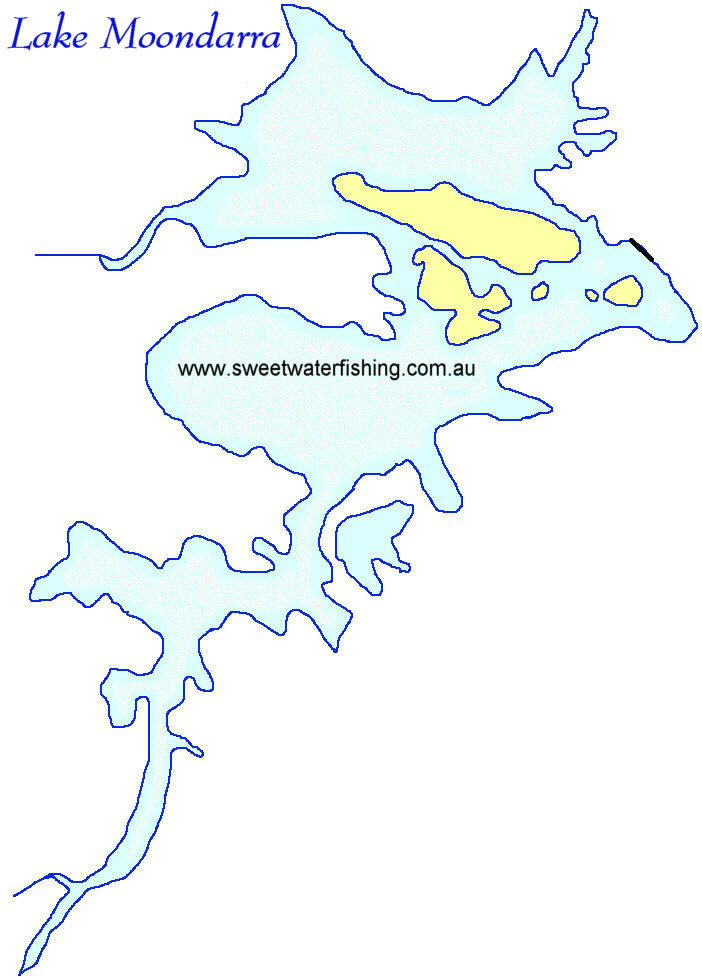 Click on above map for larger printable version

Information sources: MIFSG & A Guide to Stocked Waters. (DPI publication)
Leichardt River Dam Map