Constructed in 1988 on Obi Obi Creek, Lake Baroon ( Baroon Pocket Dam ) has a surface area of 400 ha, an average depth of 15 metres and holds some 60 000 ML of water. Its primary use is for town water supply for Maroochy & Caloundra. It is situated 7 km NE of Maleny & 5 km SW of Montville.

Fishing
Stocked species include Bass, Golden Perch & Mary River Cod as well as the naturally occurring Eels, Tandans & Spangled Perch.
The Obi Obi Gorge below the dam is one of the few remaining places where Mary River Cod are maintaining a wild population. The taking of Mary River Cod is totally prohibited both in Baroon Pocket Dam (Lake Baroon) and in Obi Obi Creek, Obi Obi Gorge.
No lead sinkers are allowed in Lake Baroon.
Boating
No combustion engines are allowed on Lake Baroon however electric motors are allowed on dinghies but not on canoes. A maximum of 10 electric powered dinghies are allowed on the water at any one time.
A boating permit of $5/day or $50/year is required & are available on site.
Accomodation
No camping at Lake Baroon is permitted.
Assorted accomodation available in Montville & Melany.
Related Links:
Purchase Stocked Impoundment Permit on-line - QDPI&F
Lake Borumba - Imbil
Caboolture River - Caboolture
Ewen Maddock Dam - Caboolture


Lake MacDonald - Cooroy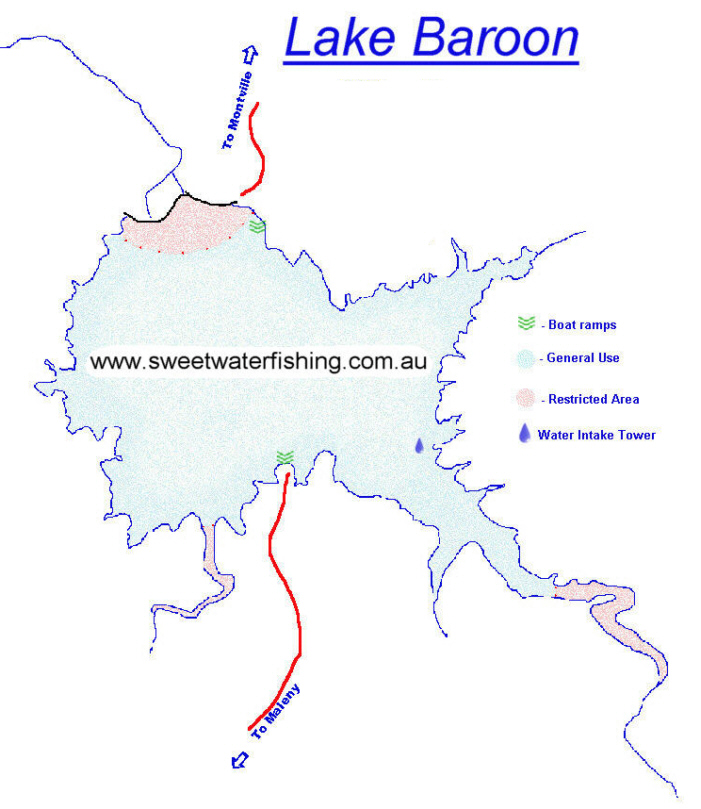 Click on map for larger printable view