CONSTRUCTED in 1964 Borumba Dam (Lake Borumba) has been one of Queensland's most established lakes. Built across Yabba Creek (a tributary of the Mary River) the lake has a surface area of 500 hectares at an average depth of 6.6 meters and holds 33 300 mega litres when full. This is utilised primarily for irrigation purposes.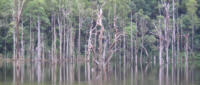 Click on image for larger version
Fishing Lake Borumba
Lake Borumba produces Golden Perch, Silver Perch initially bred from an on-site hatchery (now closed) and later with Australian Bass and the endangered Mary River Cod. However the real drawcard to Lake Borumba has been the Saratoga. From an itinital release of around 200 fish, this iconic Australian fish has established a self sustaining population throughout the lake.
Borumba is a fishers paradise.... Calm waters, misty mornings with deer & dingoes both seen & heard, structure to cast at above & below the water with rain forrest growing to the edge of the water in places.

Fly Fishing
It is a perfect place for fly anglers to test their skills. Saratoga and bass will readily take a sub-surface fly cast around the many snags and overhanging trees, however there is nothing better than the explosive fun of a surface strike. So take a variety of flies.
Lures
While not renown as a big bass lake, Borumba produces some quality bass in the high 40cm range on occasion with the average fish being in ther mid 30cm range. But what Borumba lacks for with size, it makes up for with numbers & enthusiasm. Fish here tend to be quite aggressive will readily attack a well presented lure. Shallow to medium diving lures will work around the entire lake margin. Similarly, spinnerbaits and jig spinners.
Soft plastics do work around the edges & can even do well rigged un-weighted and walked along the surface for Australian Bass or Saratoga.
| | | |
| --- | --- | --- |
| | | |
| An average Lake Borumba Saratoga | A typical Borumba Dam Yellowbelly | Saratoga will readily take fly at Borumba Dam |
Click on image for larger version
Access
All forms of boating are permitted on Lake Borumba however care should be exercised in the feeder creeks due to extensive standing timber. There is a double laned concrete boat ramp adjacent to the dam wall that is open 24/7.
There is a no boating / fishing zone from the boat ramp to the dam wall.
Camping at Borumba Dam
No camping is permitted on the lake shore, however there is a camp ground immediately below the dam wall. This is only a minutes drive from the launching ramp.
Alternatively there are farmstays and camping grounds further downstream on Yabba Creek and Hotel Motel style accommodation available in Imbil.
See the Accommodation page for details.
Recommended Fishing Guide / Charter Operator
Paul Dolan. Fraser Coast Sportfishing 0407674350 Email
* A Stocked Impoundment Permit is required to fish at Borumba Dam.
* Mary River Cod are totally protected in the entire Mary River Catchment. This includes Borumba Dam and Yabba Creek.
Borumba Dam Map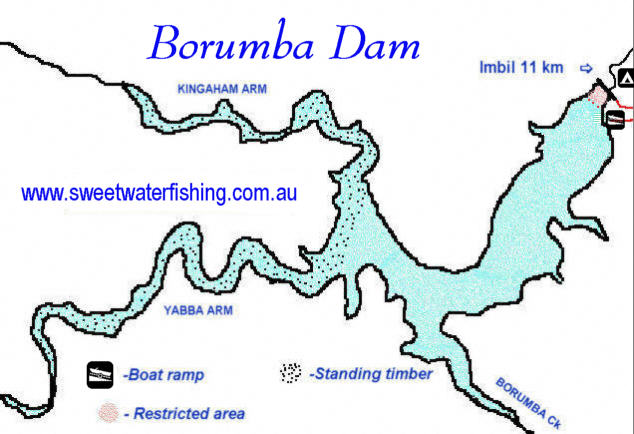 Click on map for larger printable version
Lake Borumba Map
Borumba Deer Park Lake Borumba Borumba Dam Imbil Camping Borumba Camping Yabba Creek